Sports
Piniella voices anger at Devil Rays' owners
Mon., June 13, 2005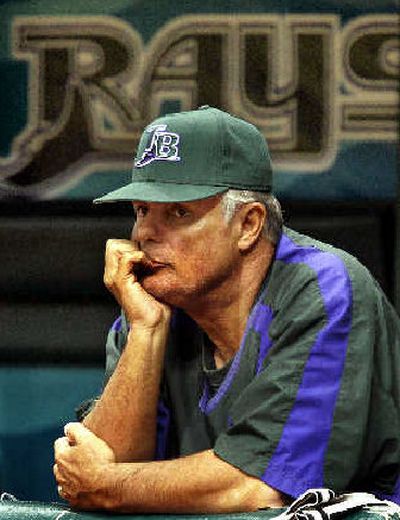 PITTSBURGH – Devil Rays manager Lou Piniella, weary after a recent run of blowout losses and embarrassing performances, ripped the last-place team's ownership Sunday for not caring about winning now.
Piniella said the New York-based owners who bought a controlling share of the perennially poor-performing franchise a year ago don't seem to care about Tampa Bay's current on-field product.
"They're not interested in the present, they're interested in the future. And that's their right," he said. "But when other teams are getting better presently, you're going to get your butts beat and that's exactly what's happening."
Piniella's remarks came barely 12 hours after an 18-2 loss to the Pirates, the sixth time since May 29 the Devil Rays allowed 10 or more runs in a loss. They were outscored 25-4 in the first two games of the interleague series in Pittsburgh and gave up a remarkable 50 runs in a four-game stretch from Wednesday through Saturday.
The former Yankees, Reds and Mariners manager suggested he is tiring of constantly giving excuses for the Devil Rays' poor play. They beat Pittsburgh 7-5 in 13 innings Sunday, but still went 2-10 on a road trip that saw them lose four consecutive games they led by three runs or more.
"I'm not going to take responsibility for this," Piniella said in pregame remarks to reporters. "If I had been given a $40 million or $45 million payroll, I'd stand up like a man and say it's my fault. Well, I'm not going to do it. So if you want answers about what's going on here, you call the new ownership group and let them give them to you."
The Devil Rays began the season with a $29,893,567 payroll that was about $7 million lower than any other major league team. Only the Pirates ($38.1 million) and Royals ($36.88 million) had payrolls below $40 million.
A group headed by New York investor Stuart Sternberg bought 48 percent of the team just over a year ago. Former owner Vince Naimoli owns about 15 percent of the team and remains as the managing general partner. Limited partners who have no say in running the team own the remaining 37 percent.
At the time he bought into the team, Sternberg said a major emphasis would be retaining a core of young players and player development.
Naimoli, who attended the series in Pittsburgh, wouldn't comment on Piniella's remarks.
Asked about the state of the team, Naimoli said Piniella should answer any such questions.
Local journalism is essential.
Give directly to The Spokesman-Review's Northwest Passages community forums series -- which helps to offset the costs of several reporter and editor positions at the newspaper -- by using the easy options below. Gifts processed in this system are not tax deductible, but are predominately used to help meet the local financial requirements needed to receive national matching-grant funds.
Subscribe to the sports newsletter
Get the day's top sports headlines and breaking news delivered to your inbox by subscribing here.
---