News > Features
Rodriguez gives a whole new meaning to 'family film'
Mon., June 13, 2005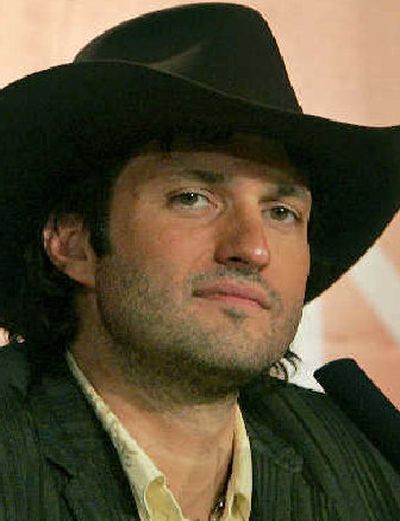 Robert Rodriguez says he's always admired family-run restaurants.
"You know…one of those places where Mom and Dad cook and the kids take orders and sweep out the place?" he says.
In effect, he and his family have their own restaurant – only it's a movie studio.
From their Austin, Texas, home they make fast, relatively cheap movies that are astonishingly profitable.
Just a couple of months ago Rodriguez unleashed "Sin City," an R-rated film noir effort in which everything but the actors was generated in a computer.
And on Friday the Rodriguez gang gave us "The Adventures of Shark Boy and Lava Girl in 3D," a kid flick directed by Rodriguez, produced by wife Elizabeth Avellan and written by son Racer Max, 8.
Balancing his home life and his professional life is easy, Rodriguez says.
"If you don't separate them, no balancing is needed," he says.
"When I was making 'Sin City' I'd be in the house simultaneously working on that picture, playing with the kids and coming up with stuff for 'Shark Boy.' "
With a world-class computer system on the premises, Rodriguez rarely has to leave the house.
"In fact, I'm such a homebody that sometimes I'll go to my car, and the battery is dead," he says. "I can't remember the last time I drove it."
If Rodriguez sounds a bit like a kid with a new train set, it may be because he considers himself a big kid.
"I was planning 'Spy Kids' even before I had kids of my own," he says. "I came from a family of 10 kids and that marked my life.
"Initially I made movies for my siblings. Now I make movies with my children."
Racer Max (one of four boys in the family; a baby of unknown gender is on the way) invented the characters of Shark Boy and Lava Girl a couple of years ago.
"We started developing as a movie as a kind of lark," Rodriguez says. "I wanted to show him how you start with one idea and like a train you keep adding to it. At first we were going to do it very small-scale, but it turned into this monster with a huge ad campaign and trailers and everything.
"But Max learned lots and has been applying those lessons to the rest of his life. You just start with one idea and keep adding layers.
"You know, when you validate kids' ideas they just get more confident. It took me 30 years to decide my ideas were pretty good. Max is already there."
Next Rodriguez will team up with Quentin Tarantino for "Grindhouse."
"It'll be a double feature," he says. "Each of us will make a one-hour movie … sort of like the old American International Pictures releases that used to play in Times Square."
But Rodriguez also is planning what he calls "a giant home movie shot with handheld digital cameras."
He'll make it with his family. No professional actors or crew.
"It'll be our own Little Rascals movie," he says. "Once I get them all working, it ought to keep them out of trouble."
The birthday bunch
TV host Ralph Edwards ("This Is Your Life") is 92. Magician Siegfried (Siegfried & Roy) is 66. Actor Malcolm McDowell is 62. Actor Richard Thomas is 54. Comedian Tim Allen is 52. Actress Ally Sheedy is 43. Singer-guitarist Rivers Cuomo (Weezer) is 35. Actor Steve-O ("Jackass") is 31. Actor Ethan Embry is 27. Singer Raz B (B2K) is 20. Actresses Ashley and Mary Kate Olsen are 19.
Local journalism is essential.
Give directly to The Spokesman-Review's Northwest Passages community forums series -- which helps to offset the costs of several reporter and editor positions at the newspaper -- by using the easy options below. Gifts processed in this system are not tax deductible, but are predominately used to help meet the local financial requirements needed to receive national matching-grant funds.
Subscribe now to get breaking news alerts in your email inbox
Get breaking news delivered to your inbox as it happens.
---