News > Business
Airbus gets boost
Tue., June 14, 2005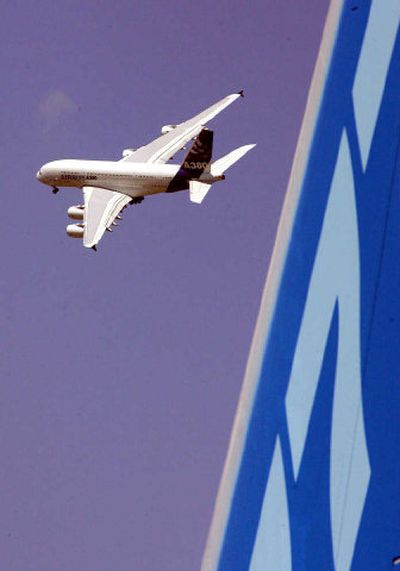 LE BOURGET, France — On the first day of the Paris Air Show, Airbus came out swinging in its fight against Boeing, saying it has won enough orders to launch its mid-sized A350 jet after beating its rival to a 60-plane deal with Qatar Airways.
After a run of bad news for the European plane maker, Qatar Airways announced it chose to buy up to 60 of Airbus' A350s instead of Boeing's 787 "Dreamliner."
Although the Doha, Qatar-based carrier also said it plans to buy at least 20 Boeing 777s, the A350 announcement is a major boost for Airbus and a blow to Chicago-based Boeing Co. — which had hoped Qatar would add to the 266 Dreamliner orders already on its books.
Before the Qatar deal, which has yet to be finalized, Airbus had announced just 10 nonbinding A350 orders from Spanish carrier Air Europa. Boeing's claims — that the A350, derived from the existing A330, was no match for its all-new jet — were gaining credibility.
But Qatar's order was seen as a vote of confidence in the latest, improved design for the Airbus jet, which now includes more lightweight composites than originally promised.
"It's certainly a well-needed morale boost for the A350 program," said Jon Kutler, head of the U.S. aerospace consulting group Jefferies Quarterdeck.
Airbus Chief Executive Noel Forgeard said the Qatari deal means he now has "more than enough" orders to launch the plane.
That decision has effectively been postponed by Airbus parent European Aeronautic Defence and Space Co., which said last week it planned to give the green light "by the end of September," instead of during the show, as many had expected. Dubai, United Arab Emirates-based airline Emirates, which had been expected to order 50 of the planes this week, said last week it had no plans to announce any purchases.
EADS has been without a CEO for over a month. The appointment of French Airbus boss Forgeard and German Tom Enders as joint-CEOs has been blocked by German resistance to Forgeard's plans to increase the group's control over divisions including Airbus when he takes up the job.
World Trade Organization litigation filed by the United States against the government funding that Airbus receives to develop its planes has also delayed a decision on how to finance the A350. The EU has countersued, citing military funding and subsidies received by Boeing and its foreign suppliers.
A person close to Airbus, who asked not to be identified because no decision had been made, said the company and its shareholders are asking governments to contribute U.S.-style research funding toward the A350's development cost, instead of the usual soft loans.
Washington has attacked the loans as subsidies because they shift financing costs and risk from Airbus to the governments since they do not have to be repaid if the plane flops commercially.
Ministers from Airbus' four supporting governments — France, Germany, Britain and Spain — discussed A350 funding with Forgeard on the margins of the show but reached no firm conclusion, French Transport Minister Dominique Perben said.
Asked whether they had considered research funding as an alternative to development loans, British Industry Minister Alun Michael said: "It's very clear that research and technology is at the heart of the long-term viability of the industry."
Airbus still has to clinch more deals if it's to deliver on Chief Commercial Officer John Leahy's earlier pledge to unveil more than 100 new A350 orders at the show.
Leahy said Monday the total order book stands at 90, including the Air Europa deal and 20 more commitments from U.S. Airways — which are subject to the completion of its planned merger with America West Holdings Corp.
Local journalism is essential.
Give directly to The Spokesman-Review's Northwest Passages community forums series -- which helps to offset the costs of several reporter and editor positions at the newspaper -- by using the easy options below. Gifts processed in this system are not tax deductible, but are predominately used to help meet the local financial requirements needed to receive national matching-grant funds.
Subscribe now to get breaking news alerts in your email inbox
Get breaking news delivered to your inbox as it happens.
---