News > Nation/World
Bluster gone out of Saddam
Tue., June 14, 2005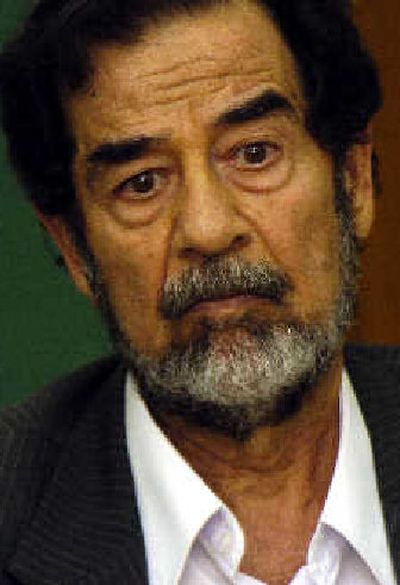 BAGHDAD, Iraq – Saddam Hussein pulled at his graying beard and fidgeted as he sat on a chair facing the man who will put him on trial.
Unlike Saddam's last video appearance when he was arraigned just more than a year ago, the man on a tape released Monday by Iraq's Special Tribunal appeared a shadow of his former self.
Gone was the bluster and aggressiveness. The new Saddam has bags under his eyes, often clasped his hands and squeezed his fingers. He constantly ran his hand down his face and through his beard, which has more gray flecks in it than a year ago.
When quizzed by chief trial judge Raid Juhi, a man about half Saddam's age, the former dictator smiled meekly and often let his eyes wander around the room.
Last month, British and American tabloid newspapers obtained and published several humiliating photographs of Saddam, including one showing him in his underwear.
In the new video, the 68-year-old former dictator is wearing a dark gray suit and white open-collared shirt as he is questioned about the killings of at least 50 Iraqis in a Shiite town.
At least two legal officials close to the case said the video – which was not accompanied by any audio – was apparently made Sunday. They did not want to be identified for security reasons.
The video was released as insurgents, many of whom are believed to be Saddam loyalists, launched four suicide car bombings and other attacks around Iraq that killed at least 14 people. Twenty-two more Iraqis were wounded after militants opened fire on authorities trying to evacuate the injured from one of the suicide blasts in the northern city of Samara.
A car bomb exploded several hundred yards from an armed convoy carrying a U.S. diplomat in Baghdad on Monday, but the official was unhurt, the embassy said. State Department spokesman Sean McCormack said there had been an explosion but the convoy was not the target.
Already tense relations soured further Monday between the majority Shiites, who dominate the government and parliament, and the Sunni Arabs, whom many hold responsible for the insurgency.
Strong disagreements broke out over the number of representatives the once-powerful Sunni minority will have on a committee drafting the country's constitution. Shiite lawmakers rejected calls for increasing Sunni representatives from 15 to 25 on the 55-member drafting committee. Sunnis renewed threats to boycott and sink the charter.
Limited or no Sunni participation on the committee would rob the charter of its legitimacy. When the draft is put to a nationwide referendum, it is likely that at least three of the four predominantly Sunni Arab provinces in Iraq would vote against it, causing the measure to fail and parliament to dissolve.
President Bush spoke Monday with Iraqi President Jalal Talabani and stressed the importance that a draft of the constitution be completed. The leaders also discussed the importance of having all groups in Iraqi society represented in the constitutional process, White House press secretary Scott McClellan said.
The Iraqi Special Tribunal trying Saddam likely issued the new video to show that it is in control of the proceedings and to counter widespread beliefs that it was being directed by Shiites and Kurds who dominate the government and the 275-member National Assembly.
Iraq's Kurdish president and the Shiite-led government said last week that the ousted leader could appear before the tribunal within two months. They later backtracked after complaints from Saddam's legal team and the tribunal, which said no trial date has been set.
In the video, Saddam's chief Iraqi lawyer, Khalil al-Duleimi, can be seen sitting to his client's right. Four other defendants, all members of Saddam's administration, were also shown.
In early June, Juhi said in an interview that Saddam's morale had collapsed because of the charges he faces.
"The ousted president has suffered a collapse in his morale because he understands the extent of the charges against him and because he's certain that he will stand trial before an impartial court," Juhi was quoted as saying by the London-based Asharq al-Awsat.
The former dictator faces charges that include killing rival politicians over 30 years, gassing Kurds in the northern town of Halabja in 1988, invading Kuwait in 1990 and suppressing Kurdish and Shiite uprisings.
In Amman, Saddam's lawyer said his Jordan-based legal team was not aware that the fallen dictator was questioned.
But Ziad al-Khasawneh said the fact it was videotaped and released "shows the kind of justice which the president is expected to endure during the upcoming trial."
An announcement that accompanied the tape said Saddam was being questioned about crimes related to the killings of at least 50 Iraqis in 1982 in the Shiite town of Dujail, 50 miles north of Baghdad, in retaliation for a failed assassination attempt against him.
Also Monday, radical anti-American Shiite cleric Muqtada al-Sadr met with the Russian ambassador and tribal chiefs from the insurgent hotbeds of Fallujah and Ramadi.
The meeting between al-Sadr and Russian Ambassador Vladimir Chamov in the Shiite holy city of Najaf, south of the capital, seemed to be a sign of the cleric's desire to return to active politics after going into isolation last fall following clashes between his militia and U.S. troops.
Al-Sadr has been trying in recent weeks to mediate between an influential Sunni Arab association and a Shiite militia that have traded accusations of targeting each other's supporters and clerics.
State Department spokesman Sean McCormack said the United States did not ask the Russians to take any message to the meeting, noting that the United States wants to bring all Iraqis who have renounced violence into the peace process.
In northern Iraq, tribal chiefs agreed Monday to hand over terror suspects to Iraqi security forces, Iraq's Defense Ministry said. The agreement represents a blow to an insurgency that has been rampant in northern areas like Mosul and Tal Afar and is bent on derailing the new government.
"For the first time, tribal leaders in northern Iraq agreed to turn in terror suspects to the Iraqi security forces," the ministry said in a statement.
Local journalism is essential.
Give directly to The Spokesman-Review's Northwest Passages community forums series -- which helps to offset the costs of several reporter and editor positions at the newspaper -- by using the easy options below. Gifts processed in this system are not tax deductible, but are predominately used to help meet the local financial requirements needed to receive national matching-grant funds.
Subscribe now to get breaking news alerts in your email inbox
Get breaking news delivered to your inbox as it happens.
---