News > Nation/World
Jury selection begins in 1964 civil rights case
Tue., June 14, 2005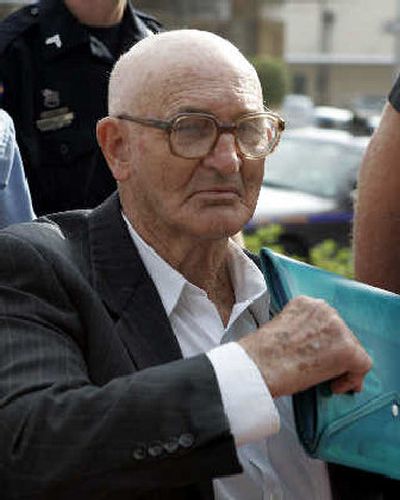 PHILADELPHIA, Miss. – Reputed Ku Klux Klansman Edgar Ray Killen watched from a wheelchair Monday as jury selection began in his murder trial in one of most shocking crimes of the civil rights era – the 1964 slayings of three voter-registration volunteers.
The case against the 80-year-old Killen represents Mississippi's latest attempt to deal with unfinished business from the state's bloodstained racist past.
In a measure of how much has changed, about a quarter of the jury pool was black, roughly reflecting the racial makeup of the county's 28,700 residents. In 1964, very few blacks were registered to vote in Neshoba County, and juries were usually all-white.
The slayings of James Chaney, Andrew Goodman and Michael Schwerner – three young men who were helping register blacks during the "Freedom Summer" of 1964 and were investigating the burning of a church the night they disappeared – galvanized the civil rights movement and helped win passage of the Civil Rights Act of 1964. The case was dramatized in the 1988 movie "Mississippi Burning."
Security was tight as about 110 potential jurors were brought to the courthouse on buses. Another group is expected today. Summonses went to about 400 people.
Killen, a part-time preacher who has been free on bail, said nothing as he was taken into the courthouse. Killen is in a wheelchair because of arthritis that was aggravated after his legs were broken in a tree-cutting accident in March. He sat silently inside the courtroom. His wife, stepson, brother and another relative sat nearby.
Circuit Judge Marcus Gordon asked potential jurors about such things as their health, their reading ability and any hardships they might face if they were picked for the case. By the end of the day, about 50 people had been excused.
Local journalism is essential.
Give directly to The Spokesman-Review's Northwest Passages community forums series -- which helps to offset the costs of several reporter and editor positions at the newspaper -- by using the easy options below. Gifts processed in this system are not tax deductible, but are predominately used to help meet the local financial requirements needed to receive national matching-grant funds.
Subscribe now to get breaking news alerts in your email inbox
Get breaking news delivered to your inbox as it happens.
---