News > Idaho
Specialist a boon to rural areas
Tue., June 14, 2005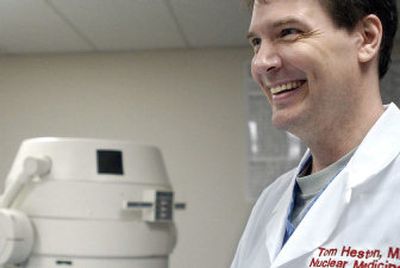 KELLOGG – Radioactivity doesn't scare Dr. Tom Heston; in fact he likes injecting it into people.
"It's the best non-invasive way to test for coronary heart disease," Heston, a nuclear medicine specialist, said Monday. "It helps with early diagnosis of heart disease and cancer."
Nuclear medicine is new enough – about 30 years old – that specialists are rare, particularly outside urban areas. Accreditation and board certification are still voluntary, therefore also rare. But Kellogg has both in Heston.
"We wouldn't be doing PET scans if he wasn't here," said Gary Moore, Shoshone Medical Center CEO. PET scans help detect cancer and neurological diseases. "It's real rare for a rural setting to have that opportunity."
Drs. Joseph Abate and Ronald Fritz in Coeur d'Alene are certified in nuclear cardiology, but Heston is the only doctor in North Idaho certified in general nuclear medicine. That means he can inject unsealed radioactive positrons into a patient's bloodstream to expose concentrations of cells that indicate cancer or gatherings of cells that show the start of heart disease.
"A lot of rural communities hope for a specialist like that," Moore said.
So Heston has spread himself around. In the last five years, he's opened nuclear medicine clinics in Kellogg, Sandpoint and Post Falls.
"It's important to bring to rural communities," he said. "And being accredited reassures people. Part of medicine is making people comfortable with you as a doctor."
Heston trained in family practice at St. Louis University but was so captivated with nuclear medicine that he completed a residency in the specialty at Oregon Health Sciences University. A native of Spokane, he wanted to practice medicine in underserved North Idaho, so he set up practice in Kellogg in 1997 as a much-needed family practitioner.
The nearest nuclear medicine then was offered in Spokane, which prompted Heston to work on a plan to offer the specialty in Kellogg.
"Generally the people you're telling to drive over the (Fourth of July) pass for tests are over 65, and it drains them," he said. "We had one man who needed a scan and couldn't make the drive. His family drove from Portland to drive him."
Heston proposed a partnership with Inland Cardiology of Spokane in 2000. Inland had history with Shoshone County, regularly sending equipment and technicians to Kellogg to save patients the drive to Spokane. Inland helped Heston set up a nuclear medicine office, complete with a Gamma camera that provides digital images of the radioactive material's path through a patient. Three years ago, the office became Heston's, and he's devoted himself full time to nuclear medicine since.
Nearly two years ago, Heston opened another office in Sandpoint.
"It was the largest population center around without nuclear medicine," he said.
The federal government requires the Nuclear Regulatory Commission to license any doctor who practices nuclear medicine. Doctors train about 200 hours in the safe handling of radioactive materials to receive a license.
At this point, no further certification is required, although professional medical societies like the American College of Cardiology and the insurance industry are beginning to push for mandatory accreditation that shows doctors know how to handle radioactive materials safely in patients.
Heston decided accreditation was necessary.
"It's hard to work in a small town. Some people think bigger is better and head to Spokane or Seattle or New York for medical care," he said. "That's why accreditation is important in a small place."
Heston invited the Intersocietal Commission for the Accreditation of Nuclear Medicine Laboratories to test his lab. Experts reread his scans, checked for quality and his handling of radioactive material. They checked his interpretations of the camera images. In April, he was notified of his accreditation.
Now he's opening an office in Post Falls. Heston travels between the three offices and has injected radioactive positrons into about 2,000 people, he said. He plans to recruit other accredited nuclear medicine specialists to work in the offices and make North Idaho home.
"We're very happy to have Dr. Heston in the community," Moore said. "Without him, no one else here can do nuclear medicine. It really helps the community."
Local journalism is essential.
Give directly to The Spokesman-Review's Northwest Passages community forums series -- which helps to offset the costs of several reporter and editor positions at the newspaper -- by using the easy options below. Gifts processed in this system are not tax deductible, but are predominately used to help meet the local financial requirements needed to receive national matching-grant funds.
Subscribe now to get breaking news alerts in your email inbox
Get breaking news delivered to your inbox as it happens.
---