News > Spokane
Pavement policy may even out local roads
Wed., June 15, 2005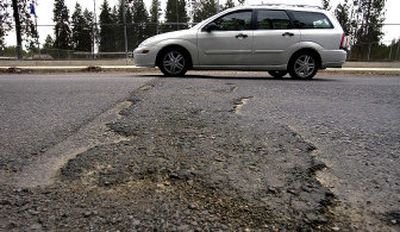 How and when utilities can cut into public roads in the Spokane area without replacing the entire road behind them will change under a new regional pavement cut policy put in place in Spokane, Spokane County and now in Spokane Valley following a vote by the City Council on Tuesday.
Utility work on structures under streets often leaves behind patches – rectangles of differently colored asphalt that wear differently from the material around them and can create frustrating jolts and ridges for drivers. The new policy swaps a five-year moratorium on cuts into new pavement in Spokane Valley with a three-year moratorium and an enforceable five-year warranty on patches.
The council also voted 5 to 2 to raise the fees charged for the cuts from $41 to $70 to cover the expense of hiring more inspectors. Councilman Mike DeVleming and Mike Flanigan voted against the motion.
"The streets in Spokane Valley are in significantly better condition than the streets in the county and especially in Spokane," said public works director Neil Kersten.
The council considered suggestions by Kersten and others to change the policy so that arterial streets fall under stricter guidelines.
After a motion to adopt the changes failed, council members voted unanimously to pass the regional policy as-is, saying that it can be reviewed after a year if it becomes a problem.
Utilities can only cut into roads less than three years old if there is an emergency.
Local journalism is essential.
Give directly to The Spokesman-Review's Northwest Passages community forums series -- which helps to offset the costs of several reporter and editor positions at the newspaper -- by using the easy options below. Gifts processed in this system are not tax deductible, but are predominately used to help meet the local financial requirements needed to receive national matching-grant funds.
Subscribe now to get breaking news alerts in your email inbox
Get breaking news delivered to your inbox as it happens.
---