Sports
Pistons' demise premature
Wed., June 15, 2005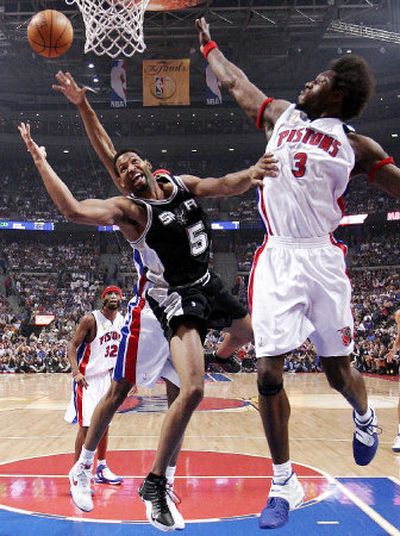 AUBURN HILLS, Mich. – The defending champion Detroit Pistons summoned the energy they had been missing in the first two games, and the NBA Finals took a completely different turn, too.
Playing with a furious vigor that was nowhere to be found in San Antonio, Ben Wallace and Richard Hamilton led the way as the Pistons dominated the final 14 minutes and defeated the Spurs 96-79 in Game 3 Tuesday night.
Television ratings have been down and interest has been low, but the best-of-7 series suddenly looks much more competitive and a little more compelling.
"I think we figured out how hard we have to play," coach Larry Brown said.
No longer is there a chance for a sweep, and never again will anyone question whether the Pistons can even play with the likes of Manu Ginobili, Tim Duncan and Co.
Ginobili got hurt in the game's first 30 seconds was a non-factor for the first time in the series, and Duncan could not match the energy or enthusiasm generated by Wallace, the Pistons' Defensive Player of the Year. Wallace's dunk with 4:27 left gave Detroit its largest lead up to that point, 88-73, and the Pistons held on easily from there.
Now, the Pistons will look to even the series at 2 in Game 4 on Thursday night and ensure a trip back to Texas.
Hamilton scored 24 points, including 10 in the third quarter when Detroit took the lead for good, and Chauncey Billups added 20. But although the Pistons got most of their points from their backcourt tandem once again, they were anything but a two-man team.
Wallace had 15 points, 11 rebounds, five blocks and three steals, and Tayshaun Prince and Antonio McDyess each added 12 points.
Detroit became the first team to score 90 points against the Spurs in 13 NBA Finals games, putting together the type of poised, pumped-up performance they hadn't displayed since Game 7 of the Eastern Conference finals at Miami.
Detroit had lost by 15 and 21 points in the first two games of the series, but it ditched the downtrodden demeanor that contributed to its undoing in Games 1 and 2.
"You know, tonight we really came out here and took care of business at home," Hamilton said. "We defended, we helped each other out and we got a win."
Everything about the Pistons was different, from their defensive intensity to their dedication in terms of getting more people involved on offense. Hamilton was more assertive in shaking off the pesky defense of Bruce Bowen, Prince was much more effective limiting Ginobili, and Wallace seemed especially motivated to put two very sub-par performances behind him.
"He was great. He played with energy and got their crowd into it," Duncan said. "Their aggressiveness was up, and that in itself fueled what they were doing."
Wallace blocked his five shots in the first quarter alone, and he had half of Detroit's offensive rebounds in the first half when Detroit had a 24-12 edge in points in the paint and an 11-0 advantage in fast-break points.
He set the tone right from the start, stealing the opening inbounds pass after he was called for a jump ball violation, then racing downcourt for a dunk and a three-point play.
Wallace ended an eight-game streak of scoring in single digits and a five-game streak with fewer than 10 rebounds.
Ginobili went down just a few seconds later, bruising his left thigh in a collision with Prince just 21 seconds into the game. Though he wasn't sidelined for long, the star of Games 1 and 2 had just four points at halftime with four turnovers. He finished with seven points and six turnovers.
Tony Parker led the Spurs with 21 points.
San Antonio opened the second half with a 13-5 run ending in a slam by Wallace off a pass from Hamilton, a play that brought the fans out of their seats and left rapper Eminem waving a red, white and blue towel from his seat behind the Spurs' bench.
But the Spurs came right back with a 9-0 run to regain the lead 56-54 before the Pistons closed the quarter with a 16-9 run to take a five-point lead into the final quarter.
"There are no games to waste," Spurs coach Gregg Popovich said beforehand. "We've created an opportunity for ourselves, and it would be great to take advantage of it."
They didn't, and now it's a whole different series.
NBA to go European
Four NBA teams will hold training camps overseas and play preseason games against top European clubs in both 2006 and 2007, NBA commissioner David Stern announced.
Stern also said the league was considering playing an All-Star game in Paris as part of the NBA's effort to increase its presence in global markets.
Also, the league is strongly considering playing exhibition games in China and Latin America in 2006.
"What we are doing here tonight, and have done, is to assure that elite athletes will increasingly bounce the ball rather than kick it," Stern said. "I think we're increasing the viability of the sport on a global basis."
The NBA teams, to be determined later, will play and hold training camps in four European cities. In addition, a four-team tournament will be held in a fifth city.
Pistons 96, Spurs 79
San Antonio (79)—Bowen 4-8 1-2 13, Duncan 5-15 4-4 14, Mohammed 2-4 0-2 4, Ginobili 2-6 2-2 7, Parker 8-16 5-8 21, Barry 4-5 0-0 10, Horry 2-7 1-2 6, Nesterovic 1-2 0-0 2, Robinson 0-2 0-0 0, Udrih 0-0 0-0 0, D.Brown 1-2 0-0 2. Totals 29-67 13-20 79.
Detroit (96)—Prince 4-10 4-4 12, R.Wallace 4-13 0-0 8, B.Wallace 7-10 1-2 15, Hamilton 11-23 2-3 24, Billups 6-12 5-7 20, McDyess 6-9 0-0 12, Hunter 1-6 1-1 3, Arroyo 1-1 0-0 2, Dupree 0-0 0-0 0, Ham 0-0 0-0 0, Milicic 0-1 0-0 0. Totals 40-85 13-17 96.
| | | | | | | |
| --- | --- | --- | --- | --- | --- | --- |
| San Antonio | 27 | 15 | 23 | 14 | — | 79 |
| Detroit | 21 | 20 | 29 | 26 | — | 96 |
3-Point Goals—San Antonio 8-17 (Bowen 4-6, Barry 2-2, Ginobili 1-3, Horry 1-3, Robinson 0-1, Parker 0-2), Detroit 3-14 (Billups 3-7, Hamilton 0-1, Hunter 0-2, R.Wallace 0-4). Fouled Out—None. Rebounds—San Antonio 45 (Duncan 10), Detroit 49 (B.Wallace 11). Assists—San Antonio 16 (Duncan, Parker 4), Detroit 22 (Billups 7). Total Fouls—San Antonio 21, Detroit 18. Technicals—San Antonio Defensive Three Second, Duncan, Detroit Defensive Three Second, R.Wallace. A—22,076 (22,076).
Local journalism is essential.
Give directly to The Spokesman-Review's Northwest Passages community forums series -- which helps to offset the costs of several reporter and editor positions at the newspaper -- by using the easy options below. Gifts processed in this system are not tax deductible, but are predominately used to help meet the local financial requirements needed to receive national matching-grant funds.
Subscribe to the sports newsletter
Get the day's top sports headlines and breaking news delivered to your inbox by subscribing here.
---