News > Spokane
Residents ask for tougher DUI penalty
Wed., June 15, 2005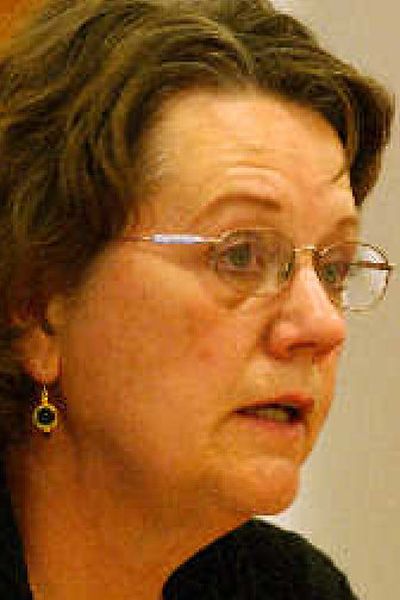 OLYMPIA – Her voice breaking into a sob, Judy Miller on Tuesday held up a photo of her son's memorial: a metal sign near Mt. Spokane High School.
"Please don't drink and drive," it reads.
Miller's 21-year-old son, Walter Corman, and his 20-year-old friend Kyle Hutchinson died two years ago when the drunken woman driving them home from a party wrecked the car.
"This was her second DUI," Miller said, struggling with the words.
Miller was one of several Spokane-area residents who pleaded with lawmakers Tuesday in Olympia to toughen penalties for driving under the influence for repeat offenders.
According to a recent state "Impaired Driving Assessment," there were 44,474 DUI cases in Washington in 2003, although it's unclear how many of those were repeat offenses. More than 600 people die in car accidents in Washington each year. About 40 percent of those crashes involve alcohol.
The good news: The number of drunken driving fatalities has been dropping in Washington since 1996, according to the study. The rate – about 1 death per 100 million vehicle miles driven – is at a record low for Washington, although it's about average nationwide.
Tuesday's three-hour hearing was at the request of Rep. John Ahern, R-Spokane, who wants to make it a felony to be a chronic drunken or drugged driver. As state law stands now, simply driving under the influence – no matter how many times you're caught – can only be a gross misdemeanor. (A driver who kills or injures someone can face more serious charges.)
Washington, according to Ahern, is one of only three states without a felony DUI law.
"This bill is not a bill about treatment. It's not a bill about therapy," Ahern told his fellow lawmakers. "It's a bill mainly about public safety. … You need to get them off the streets and into jail."
Ahern's bill, HB 1451, would make it a Class C felony to have three DUI convictions in seven years. The crime would have a "seriousness level" of 5, putting it on par with loan-sharking, bail jumping, second-degree kidnapping, stalking and necrophilia. Under a standard sentence, someone with three DUIs would face at least a year in state prison.
"This bill is aimed at those who just don't get it," said Doug Dobbins, a Spokane motorcyclist who ran against Ahern in the last election but agrees with his call for a felony DUI law. "These are not accidents. These are tragedies. We want those people off the roads."
Critics of the proposal, however, worry about the price tag. State budget analysts project a cost of $225 million more in its first two years – most of that to build a new 1,000-bed prison to hold DUI felons.
"How can the state afford that?" asked Rep. Brendan Williams, D-Olympia.
"We can't afford not to," responded Ahern.
Even Karen Minahan, the state chairwoman of Mothers Against Drunk Driving, said Tuesday that while the group supports a felony DUI law, Ahern's version is probably too costly to win legislative approval.
The group's former policy director, Pete Youngers, said he's abandoned his long-held support for a felony DUI law. Instead, he said, the state should focus on:
•More treatment for alcoholics and drug addicts.
•More ignition interlocks, which won't let a car start if a person is drunk.
•An ad campaign warning of the likely costs of getting nabbed for DUI: a night or more in jail, a suspended license, an ignition interlock and much higher auto insurance premiums.
What changed Youngers' mind on felony DUI? The statistics, he said. Washington has the lowest DUI fatality rate since 1961.
"We're not having many repeat offenders because we're giving them the interlock on the first offense," he said. "Why should we change what's working?"
Geoffrey Burg, with the Washington Association of Criminal Defense Lawyers, also called for more education.
"Let's tell people what it means to get nailed," he said.
MADD member Alan Dyer suggested making it a felony to drive drunk – even once – with a child under 13 in the car.
"That's a low-cost, high-impact message," he said.
Some of the family members of victims, however, pointed out that ignition interlocks don't detect drug use. And a drinker can always borrow someone else's car, said Anita Kronvall, a Rathdrum woman whose adult daughter was killed three years ago by a drunken driver in Spokane.
"In my personal experience, one life was too many," Kronvall told lawmakers.
Committee Chairwoman Rep. Pat Lantz, D-Gig Harbor, wouldn't commit to backing Ahern's bill. But she said that lawmakers are committed to improving the state's complex DUI laws and to finding ways to curtail drugged driving.
"As a mother and a grandmother, it's impossible for me to imagine the grief you've suffered," she told Miller and Kronvall.
Lantz's father was a doctor who was called out one Christmas Eve after a car wreck. He returned home furious. A drunken driver had killed an entire family.
"There's no excuse for it," Lantz said.
Local journalism is essential.
Give directly to The Spokesman-Review's Northwest Passages community forums series -- which helps to offset the costs of several reporter and editor positions at the newspaper -- by using the easy options below. Gifts processed in this system are not tax deductible, but are predominately used to help meet the local financial requirements needed to receive national matching-grant funds.
Subscribe now to get breaking news alerts in your email inbox
Get breaking news delivered to your inbox as it happens.
---