News > Spokane
Rotary keeps kids on right page
Wed., June 15, 2005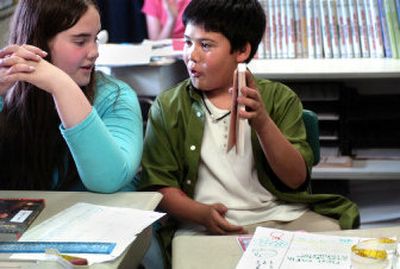 Fourth-graders from 11 area schools have added incentive to pick up a book and read this summer.
Two area Rotary Clubs provided enough money for every fourth-grade student to pick out at least one new children's book to keep.
"It's always good to have books in the hands of kids, especially going into summer break," said Mike Cosgrove, principal of Cooper Elementary School.
"Hopefully, this will help kids maintain their reading levels so they don't fall behind over the summer."
The Rotary books couldn't come at a more perfect time, as educators struggle to find ways to keep students academically engaged over the 10-week summer vacation. Pratt and Cooper, two of the Spokane elementary schools that received Rotary books, are even opening their school libraries for limited summer hours in hopes of fostering literacy.
Last year, students at Spokane's Bemiss and Regal elementary schools received books. This year – with the help of a $1,000 club donation and a $1,000 matching grant from Rotary's district office – the club expanded the program to 10 elementary schools that feed into Rogers High School.
This spring, Rotary East of Spokane Valley joined the project, purchasing books for Pratt fourth-graders, bringing the total number of schools receiving books to 11.
Although the books are particularly beneficial to low-income students at all the schools, Pratt Principal Paul Gannon said Rotary's literacy program helps students across the board.
"Fourth grade is really one of those symbolic years. We just really want to keep them engaged and turned on to reading," Gannon said. He said the grade is pivotal for children who transition from "learning to read to reading to learn."
The schools capitalize on two-for-one book fairs and discount catalogs, so each student receives one or two selections. Teachers help kids choose titles that fall within their reading levels.
"Because they have some choice, it's something they have an interest in picking back up," said Hillyard Rotary President Chris Lynch, principal of Shaw Middle School.
Pratt students received their books last week.
"I have plans to read in the morning and afternoon," Joey Nunley, who enjoys books about the misadventures of a character named Hank Zipzer, said Tuesday.
Anna Latoszek picked out "Camp Confidential" and "No Boys Allowed" and is eager to start reading. "They seem really interesting, and I want to find out what will happen," she said.
Madeline Crawford is headed to her father's home in Utah, where the family adheres to one hour of daily reading. "I only like reading books if they're interesting or if I'm forced into it," she said.
Whether by force or choice, she was looking forward to cracking into her Hank Zipzer adventure.
Later Tuesday afternoon, three Cooper classrooms buzzed with a chorus of "Sweet!" and "Awesome!" as kids received their literary picks.
A brown-eyed boy with a bright orange T-shirt gushed, "Yes! This is just what I wanted" when handed his copy of "Star Wars Episode III: Revenge of the Sith."
Copies of "No Boys Allowed" and "In the Land of the Lawn Weenies," a collection of "Twilight Zone"-like stories for kids, garnered wide smiles and thanks.
Gannon said Rotary East members are considering offering other help to Pratt, including a library of children's best sellers in fourth-grade classrooms, providing money for after-school enrichment activities, such as book and math clubs, and perhaps mentoring children.
Rotary East President Jim VanSchoorl said the project fits with the club's mission of promoting literacy. "We're excited about it, and we're going to expand it," he said.
Local journalism is essential.
Give directly to The Spokesman-Review's Northwest Passages community forums series -- which helps to offset the costs of several reporter and editor positions at the newspaper -- by using the easy options below. Gifts processed in this system are not tax deductible, but are predominately used to help meet the local financial requirements needed to receive national matching-grant funds.
Subscribe now to get breaking news alerts in your email inbox
Get breaking news delivered to your inbox as it happens.
---