News > Idaho
Idaho cafe reluctantly kicks its habit
Thu., June 16, 2005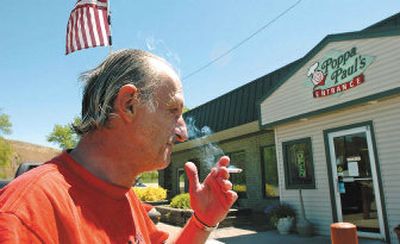 POCATELLO, Idaho – Nearly a year after Idaho's ban on smoking in public places took effect, Poppa Paul's cafe in Pocatello has cleared the air, ending its policy of allowing smoking.
Business on Monday morning, the first day the diner went smoke-free, was slow.
"Our coffee drinkers are still supporting us," server Ray Reynolds said. "They came in, had one cup of coffee and left."
The Idaho Clean Air Act went into effect last July, prohibiting smoking in all public places except those that serve customers 21 and over, such as bars.
But Poppa Paul's and a handful of other restaurants found what they consider a loophole in the law that exempts private clubs from the prohibition.
Owner Kim Taylor declared Poppa Paul's a private club where customers received a free membership with the purchase of a meal. Or, for a $1 fee, they could buy a membership and receive a free drink.
More than 4,100 people signed on. But when confronted with regulations on enclosing a separate smoke-free dining room that made the project cost-prohibitive, Taylor decided to snuff out the smoking.
"The truth of the matter is, they're going to beat you anyway," she said. "The system is going to beat you, even if it violates your constitutional rights."
Another Pocatello cafe that caters to smokers isn't about to retire the ashtrays from its tables.
Shifter's Cafe owner Maryanne Reese also designated her restaurant as a private club to permit smoking and has more than 3,000 members.
She said she hasn't had any contact with state or city regulators since Idaho's public smoking ban began and has no plans to reverse Shifter's smoker-friendly policy.
"We have good food and good customers," she said. "Where else are they going to go?"
One of the lawmakers who pushed the smoking restriction through the Legislature, State Sen. Brent Hill, R-Rexburg, applauded Poppa Paul's decision to comply with the law and questioned whether other restaurants could legitimately be considered private clubs under the act.
Hill said private clubs must be formed for a specific purpose, and dining and smoking would not qualify.
Lee Hayes, a longtime Poppa Paul's customer who quit smoking in February, is irritated that smoking is now prohibited at the eatery. "It's their God-given right and I think they're treading on too many rights," he said. "If nonsmokers don't like the smoke they can go somewhere else."
Local journalism is essential.
Give directly to The Spokesman-Review's Northwest Passages community forums series -- which helps to offset the costs of several reporter and editor positions at the newspaper -- by using the easy options below. Gifts processed in this system are not tax deductible, but are predominately used to help meet the local financial requirements needed to receive national matching-grant funds.
Subscribe now to get breaking news alerts in your email inbox
Get breaking news delivered to your inbox as it happens.
---