News > Home
Learn the inner-workings of bulbs
Thu., June 16, 2005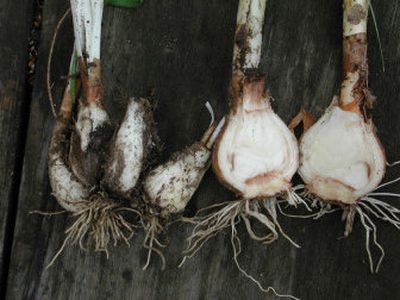 Before your spring flowering bulbs melt back into the soil until next year, take a last look at their dying leaves.
You might want to note their locations so that you can dig up and spread out overcrowded bulbs. Or, you might want to use some trickery to get some favorites to multiply even faster.
If you know the inner-workings of a bulb, you can see how they can become crowded and how to get them to multiply.
Dig up a daffodil and slice it through the middle from its tip to its base. You'll see a series of fleshy scales attached to a bottom plate, off of which grow roots – just like an onion (but poisonous!). That bottom plate is the actual stem of the plant, a stem telescoped down so that it's only about a half-inch long. Those fleshy scales store food for the bulb, and are nothing more than modified leaves or thickened bases of leaves.
On any plant, a bud forms wherever a leaf meets a stem. Look at your tomato plants: Those buds can become shoots. On a bulb, those buds can become small bulbs which, in time, grow large enough to flower.
Bulbs have their own quirks. The main bulb of a tulip, for example, disintegrates right after flowering and is replaced by a cluster of new bulbs. The mother bulb of a daffodil continues to grow after flowering, but also produces small bulbs alongside the mother bulb.
Hyacinths grow like daffodils except that they're reluctant to make babies. As baby and mother bulbs crowd each other for light, food and water, flowering suffers.
Digging, separating, and replanting bulbs will get them flowering again – and more of them.
To make bulbs multiply even faster, do essentially the same thing as pinching out the tip of a plant to make it bushier. Pinch a bulb's "stem" by turning it upside down, then scooping out the center of the bottom plate with a spoon or knife. Alternatively, score the bottom plate with a knife into six pie-shaped wedges, making each cut deep enough to hit the growing point. After scoring or scooping, set the bulb in a warm place in dry sand or soil, then plant outdoors in a nursery bed in the fall.
Next year, you might find as many as 60 small bulbs sprouting from the base of each scooped or scored bulb. Replant them and you're on your way, in about four years, to a field of flowers.
Local journalism is essential.
Give directly to The Spokesman-Review's Northwest Passages community forums series -- which helps to offset the costs of several reporter and editor positions at the newspaper -- by using the easy options below. Gifts processed in this system are not tax deductible, but are predominately used to help meet the local financial requirements needed to receive national matching-grant funds.
Subscribe now to get breaking news alerts in your email inbox
Get breaking news delivered to your inbox as it happens.
---