News > Idaho
New school is like shop class for grown-ups – or anyone
Thu., June 16, 2005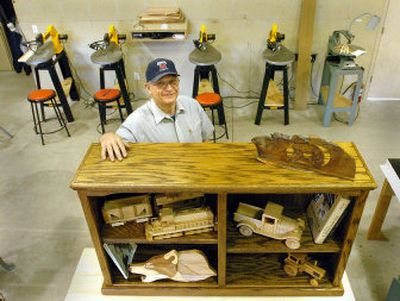 Small classes in using tools and techniques for crafts and skills are available at Coeur d'Alene School of Woodworking. The school, which accepts all ages, opened this month at 4951 Building Center Drive behind the Coeur d'Alene Charter Academy on Kathleen Avenue.
Skip Gillespie, also an instructor at North Idaho College, envisioned the classes for senior citizens, but he said many women and people of all ages have shown an interest. Instruction includes how to use tools, techniques and training for specific projects and a place to work. Enrollment is capped at six students for each class.
"I have a passion for senior citizens who have nothing to do but sit in front of a TV," Gillespie said. "People can build a bookcase or a cedar chest, lathe a bowl, whatever they want."
Gillespie and his wife and business partner Peg originally are from Seeley Lake and Ovando, Mont. They've been in North Idaho 15 years.
Classes are in the daytime and evening. Phone 755-9902.
Realtors group moving to Neider
With the real estate market booming in North Idaho, so is the association that represents the folks selling the places. With membership of about 1,000, the Coeur d'Alene Association of Realtors has purchased the former Party-Time Pizza building at 409 Neider Ave. (south of Tidyman's).
The Realtors group, with an office staff of five employees, plans to be in the 7,700-square-foot space by late August. Hometown Lending Co., now in the facility, will move, and optometrist Dr. Lisa Robinson-Neal will remain. Parking for the Realtors was the major problem at the association's longtime offices at 421 Lakeside Ave. The 5,500-square-foot building, with 18 parking spaces, was sold to a private investor. Anne Anderson, of Lakeshore Realty, is building chairperson for the Realtors.
Rathdrum Country Store opens
Animal, pet and wild bird feed; supplies and equipment; Western wear; boots; and new and used saddles and tack are available at Rathdrum Country Store at 14875 W. Highway 53, Rathdrum. The business, formerly Rathdrum Feed & Mercantile, will celebrate its grand opening Saturday.
With full-time employee Gordon Johnson, new owners Mark and Kristine Smith remodeled the store, which is open 8 a.m. to 6 p.m. Monday through Saturday. Originally from Otis Orchards, Wash., and Alaska respectively, the Smiths now live in Spirit Lake. Phone 687-2632.
River City Paint off Seltice
Everything to do with paint and related services – matching stains, for instance – can be found at River City Paint & Decorating. The new store opened last week at 444 N. Bay St., across from Tidyman's off Seltice Way in Post Falls.
Owner David Perez also sells sundries and window coverings, and he plans to expand into other areas of home decor.
"Our goal is to offer not only quality products, but advice for homeowners who need help finding the right supplies for their project," said Perez, a 23-year veteran of the paint industry. An "Air Force brat" who calls Colorado Springs his hometown, Perez and his family came to North Idaho from Illinois.
Store hours are 7:30 a.m. to 5 p.m. weekdays and 8:30 to 1:30 Saturdays. Phone 777-7101.
A few tidbits
•Responding to last week's column on the reasons to create city plazas, one city councilman asked, "Do you mean to close off Sherman?" Maybe, if that's the best location, but it would be for a plaza, not a botanical garden, and the street could reopen in the winter. Just look at the possibilities again.
•Some businesses are hurting themselves by not maintaining their bordering landscaping. When it's unsightly with weeds or litter, that's how potential customers will regard the quality of the business itself.
•Hmm. When is it not news? An item is unlikely to run in this space if it's about a new product or menu change or if the business does not have a commercial location. Otherwise, contact Nils Rosdahl at 769-3228 or nils_rosdahl@nic.edu.
Local journalism is essential.
Give directly to The Spokesman-Review's Northwest Passages community forums series -- which helps to offset the costs of several reporter and editor positions at the newspaper -- by using the easy options below. Gifts processed in this system are not tax deductible, but are predominately used to help meet the local financial requirements needed to receive national matching-grant funds.
Subscribe now to get breaking news alerts in your email inbox
Get breaking news delivered to your inbox as it happens.
---