News > Home
recycling with rik
Thu., June 16, 2005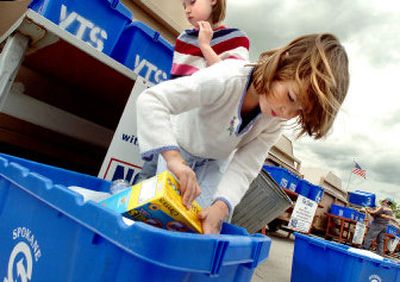 "I've got to build and paint a golf course before the end of June," says Gayle Tomsha, "and green paint is hard to find."
So Tomsha was delighted to find most of a gallon of Hunter Green for free on the Reusable Table at the Valley Transfer Station Recycling Center.
Tomsha, a Spokane Valley resident, is a volunteer instructor at Camp Na-Bor-Lee on Lake Roosevelt. Her sister Sharon Rutter is co-director of the four-day 4-H youth camp sponsored by Lincoln/Adams County WSU Extension. At camp, children learn to use a compass and tie knots, participate in craft activities such as tie-dying, and are taught canoeing.
They also play games – like miniature golf, and Tomsha is the course's chief architect and greenskeeper.
"I found the wood I-beams for the fairways at the free wood pile at Homestead Construction in the Valley," she says. "The old tire for the loop-de-loop dragon hole was from my car. All my paint came from the Recycling Center."
Besides being recycling drop-off points, the Spokane Regional Solid Waste System (SRSWS) Recycling Centers also are places to dispose of household hazardous waste safely and responsibly. Household hazardous waste includes waste oil, antifreeze, car and household batteries, 5-gallon propane tanks, paints, cleaners, solvents, pesticides, and fertilizers.
"The centers take household hazardous chemicals from the 'waste stream' and out of the environment," says Scott Windsor, SRSWS Hazardous Waste Coordinator.
When items are dropped off, they are sorted to remove those that are banned or may be misused or mishandled. But household products that can be safely reused are returned to a Reusable Table where they are free for anyone to pick up.
"During spring and summer months, we get 20 to 40 people every day," says Bill Ellison, SRSWS/Valley. "Some come back daily to see what's available."
Paint-related products that are usually available include latex paints, spray paint, stains, paint thinner and paint remover.
"Sometimes people just want enough paint to paint their house trim," says Jack Lyons, SRSWS/North County.
"The best practice is to get rid of hazardous materials by using them in the way they were intended," says Geoff Glenn, SRSWS/Waste-To-Energy. "So if it's leftover paint from the house, use it to paint your tool shed."
South Side resident Maureen Brown, who describes herself as a "landscape hobbyist," takes advantage of free pesticides.
"I had an arborvitae that was dying," she says. "But the pesticides were expensive. I couldn't afford them. So I came to the center, got the pesticides for free and saved my arborvitae."
Typical fertilizers and pesticides found at the Reusable Tables are slug bait, rose dust, dormant spray, Miracle-Gro, hornet/roach/ant spray, earwig and roach bait, whitefly & mealy bug control.
A variety of home maintenance and repair products are often available at the Reusable Tables, too. These products include floor waxes, concrete and wood sealers, wallpaper remover, grout, glazing compound, even swimming pool and spa chemicals.
Jay Phillips of Greenacres has taken advantage of Reusable Table automotive products like car paint, enamel reducer, and car polish, to restore his '68 Chevy and '39 Ford pickups.
"It's so spendy normally," Phillips says, "and it's really stupid not to reuse and recycle. We all live over the aquifer. It only makes sense to recycle our hazardous waste – it protects the water we drink, the river we swim in, the water we put on our lawns and parks."
The day Tomsha found her green paint, she was at the Recycling Center to introduce her sister, Paula Jones from North Spokane, to the Reusable Table.
Jones, a Camp Fire USA leader for 27 years, had done dozens of crafts projects, like bird feeders, that used paint, but had never visited the Reusable Table. Currently a certified nurses aide at St. Luke's Rehabilitation Institute, she also has a work-related reason to use free materials.
"Every year our Pediatrics Department puts on a Halloween Party for the children," she says. "But the budget for decorations is small. With free paint I can do a lot more."
Last year she even made life-size toy soldiers from the large cardboard tubes fabric comes on. "Practically everything I do is from recycled materials," Jones says.
Tomsha attributes their recycling instincts to family influence.
"Our mom raised us to recycle," she says. "Her mom taught her. Grandmother was born just before World War II and grew up with rationing. So she saved everything. Patched everything. Patches over patches."
Both sisters agree the family tradition is important to them, Jones says, "We enjoy making things. It reminds us of our mom, and we enjoy that people enjoy what we make."
Local journalism is essential.
Give directly to The Spokesman-Review's Northwest Passages community forums series -- which helps to offset the costs of several reporter and editor positions at the newspaper -- by using the easy options below. Gifts processed in this system are not tax deductible, but are predominately used to help meet the local financial requirements needed to receive national matching-grant funds.
Subscribe now to get breaking news alerts in your email inbox
Get breaking news delivered to your inbox as it happens.
---