News > Voices
Sr. Giampietri an essential part of Catholic school community
Thu., June 16, 2005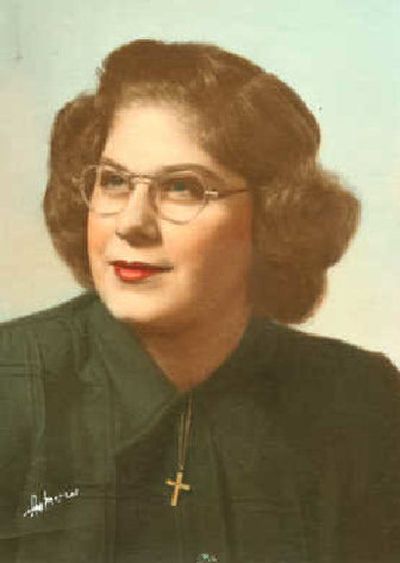 Sister Loretta Giampietri was late in becoming a nun. At a time when girls worked to join the sisterhood even before graduating from high school, Giampietri made her commitment at age 25.
For reasons other than her age, she was different. It was 1955 when she entered the Franciscan Sisters of Perpetual Adoration at St. Rose Convent in La Crosse, Wis. The daughter of Spokane Italian immigrants had already done some traveling on her own, something women of the day didn't do. She not only drove, but she had her own car. And she smoked – previously, anyway.
Inevitably Giampietri's peers, some eight years her junior, asked just what she did before becoming a nun.
"She would tell them that she worked at her parents' spaghetti factory and it was her job to blow out the centers of the pasta to make the macaroni," Sister Pat Gordon recalled recently.
Knowing nothing about the pasta business, which actually was the Giampietri family calling, young nuns often believed that tale, at least until Sister Giampietri's poker face broke. It was a story she told to the unsuspecting up until the last days of her life.
Giampietri died May 19, not quite a year after being diagnosed with liver cancer. She was 74.
She was a pillar of Spokane's Catholic schools. Giampietri taught at four of Spokane's Catholic grade schools. She was principal of St. Paschal's school for 23 years. People familiar with St. Paschal's, the smallest Catholic school in the area, credit Giampietri for keeping it open since the early 1980s.
"She could take a penny and turn it into a dollar," said Mary Ann Ashlock, who was assistant superintendent of Catholic schools when Giampietri was principal. "She would take a dollar and work it right down to the penny, thus she never got money from the diocese. That was kind of unusual. It's a very small school, fewer than 100 students. Most schools have more than a hundred."
The Giampietri who Ashlock remembers is a woman who walked the hallway at St. Paschal's peering into classrooms, always looking for a way to help. She was big on reading to the children, and she had a knack for handling personnel problems. The principal told Ashlock once that every community was like a family. Giampietri would say, "It's a family, and everyone has their place. There's a sense of order, and everybody knows what to expect."
Giampietri's own family was very much like a small community. She was one of eight children, the second youngest girl of the siblings. Everyone had a place. She really did work in her father's pasta factory and looked after her siblings.
Becoming a nun stretched her family ties, at least temporarily. Giampietri's order called for its nuns to sever relationships with all things worldly in order to truly become God's and no one else's. Family relationships were supposed to take a backseat, as well.
The only home Giampietri was allowed to enter was her father's, said Yolanda DeFelice, a sibling of Giampietri. DeFelice remembers looking out her front window to find her sister standing there. Once Giampietri got DeFelice's attention, the two would meet in the back yard to visit. Giampietri would have to walk around the home to visit, she couldn't walk through it.
It was a shock when Giampietri announced she was going to be a nun, DeFelice said. She seemed too independent, too liberal for such a conservative commitment. The first time Sister Giampietri visited DeFelice's home dressed as a nun, DeFelice's husband, Joe, jokingly lifted up the hem of sister Giampietri's dress to see if she was wearing pants underneath. Joe DeFelice had never known his sister in-law to wear a dress.
The nun in training also had to end promises to be a godparent to her nieces and nephews.
"I'll never forget, she came to me and said, 'I don't get to be your godmother anymore,' " said Susan Dolan, DeFelice's daughter. "I cried and cried."
But becoming a nun wasn't a decision made in haste. Decades into her commitment to her faith, Giampietri told Ashlock that the decision was one she always knew she would make.
"She said she knew from a very early age, like maybe second grade, that her mission in life was to become a nun, but she fought it until she made her decision," Ashlock said. "And she loved her order."
Giampietri was still a strong presence in her family, though God came first. She was a ruthless pinochle player who enjoyed skunking her nieces and nephews. And she also served somewhat gently as the family's moral compass.
Dolan could always count on her aunt for a reminder about Sunday services and a question or two the following week if Dolan didn't show up.
Giampietri's grand-nephew, Greg DeFelice, told friends gathered at his aunt's funeral that she had the most subtle way of suggesting "a better word" if he dropped a salty one during a card game.
"I remember so vividly that she would gently suggest that maybe the phrase "dirty pool" could be usefully substituted for one of my curses," Greg DeFelice told the gathering.
That "dirty pool," or "oh fiddlesticks" seemed to get to the point just as well.
The grand-nephew recalled being in the drive-up lane at a local bank as a young boy with Giampietri. Curious about his great aunt's car, Greg DeFelice had been asking permission to press and pull several knobs and switches. Giampietri offered to let him put the car in drive so they could roll forward for their turn.
"I put my hand on the lever and moved it carefully from park into drive and, I kid you not, simultaneously there was a terrible grinding noise and smoke started billowing out from under the hood," Greg DeFelice said.
"Was it me?" he asked.
"No," Giampietri said.
"Was that God?" he asked.
"Maybe," Giampietri said
Greg DeFelice told the story at the funeral because Giampietri planned her own funeral and asked that he speak. She planned the entire service and selected people to talk who she believed could get through the service without crying. The wanted someone to tell a few jokes and keep things upbeat because for her, death was only the beginning.
Local journalism is essential.
Give directly to The Spokesman-Review's Northwest Passages community forums series -- which helps to offset the costs of several reporter and editor positions at the newspaper -- by using the easy options below. Gifts processed in this system are not tax deductible, but are predominately used to help meet the local financial requirements needed to receive national matching-grant funds.
Subscribe now to get breaking news alerts in your email inbox
Get breaking news delivered to your inbox as it happens.
---