This column reflects the opinion of the writer. To learn about the differences between a news story and an opinion column, click here.
Opinion > Column
The Slice: Don't let the shirt fool you
Thu., June 16, 2005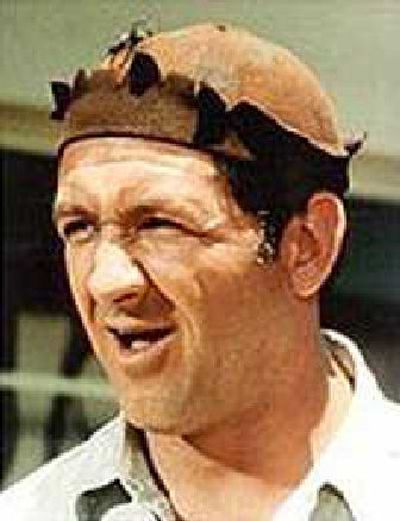 It's almost time again for that magical season when countless uptight, angry Spokane guys don Hawaiian shirts in the amusing belief that it makes them appear to be at peace with the dark forces in control of their lives. OK, let's move on.
"Slice answers: "I thought I would respond to the Slice question regarding what exclamation my mother uses when surprised, disgusted, overwhelmed, elated or just plain angry," wrote Owen Fullmer. "She will be 81 in November and I have never heard her curse."
Instead, she says "My word!"
On occasion, such as the time a scorpion stung her big toe, she will notch it up to "Well, my word!"
"I grew up hearing it often enough that I didn't realize it was unusual, but the grandkids think it is just the funniest thing ever," said Fullmer.
Once, one of those grandchildren was in Ecuador awaiting an emergency wire transfer of money. To verify her identity, the young lady first had to answer a question: What does Grandma say when excited?
"She nailed it," said Fullmer.
In Sarah Wasicek's family, it was popular to quote one particular grandfather when observing various social outrages or a breach of manners: "What you don't see when you ain't got a gun."
And another reader told about a Ukranian grandfather in North Dakota who invariably responded to evidence that the world had gone crazy by saying (fast, as if it were one long word), "Boy, oh boy, oh boy, oh boy."
"Speaking of expressions: "Growing up in Spokane with Northwest parents, I have no idea where 'Howdy' comes from (Saturday's Slice)," wrote Steve Sather.
But he enjoys saying it.
(Several sources suggest it comes from the phrase "How do ye" which turned into "How do you do.")
"I like it when I say 'Howdy' and the person I'm addressing, rather than saying "Hi' or 'Hello,' says 'Why just fine, thank you,' " said Sather. "That's understanding 'Howdy.' "
He also likes saying "Hey," but he's pretty sure he got that from "The Andy Griffith Show."
You know. "Goober says 'Hey.' "
"Rewriting the rewrite: Mike Storms read Friday's Slice and he has an observation.
A revision of the movie "Jaws" set in the Inland Northwest would not feature a trout. It would star a bruin, he said. "Instead of menacing beaches, it might dine at the Hangman and Qualchan golf courses."
Yeah. I could see that.
Mayor Vaughn: "What kind of a bear did you say it was?"
Hooper: "Ursus arctos horribilis. A grizzly."
"Something the Kyoto Accords failed to address: "I have a theory that recent global warming can be attributed to the baby boom generation of women moving into perimenopause," wrote my friend John Kafentzis.
"Today's Slice question: What would a man learn from an hour spent at the cosmetics counters at Nordstrom?
---
---