Sports
Vasser's Portland results vary
Fri., June 17, 2005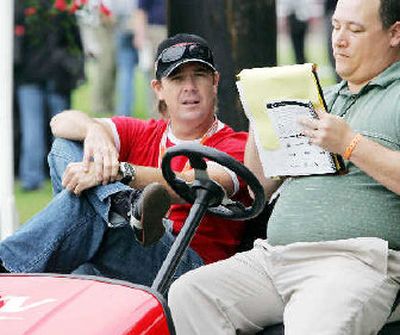 Jimmy Vasser has good reason to love Portland, and good reason to rue it.
Thirty years ago, Vasser won the quarter-midget national championship at Alpenrose Dairy in the suburbs south of the city. That was one of three such titles for Vasser, paving the way for his racing career.
Ten years ago, Vasser thought he had earned his first series victory at Portland International Raceway after Al Unser Jr. was disqualified. But Unser was reinstated, and Vasser waited another year before he officially entered the win column.
Vasser is back for this weekend's Grand Prix of Portland, the fourth stop on 14-race Champ Car World Series circuit. It will be his 201st consecutive start.
At Champ Car's last race at Milwaukee two weeks ago, Vasser started on the pole but was passed early by eventual winner Paul Tracy.
The 39-year-old Vasser, an owner of PKV Racing, is eighth in the series standings with 44 points.
Vasser won the 1996 CART points title while driving for Target Chip Ganassi Racing and was the series runner-up in 1998. He's been one of the series' mainstays since the Indy Racing League split from CART in 1996.
Vasser, who has finished in the top 10 twice in the first three races this year, has made 14 starts at Portland International.
Veteran Martin still has drive
The clean-shaven man with short-cropped white-and-gray hair and facial lines looked at the poster-size picture of a young NASCAR driver.
Thick mustache. Brown mop-shaped hair, reminiscent of the style worn by the Beatles on the Ed Sullivan Show.
The 45-year-old Mark Martin chuckled as he saw the picture, used Wednesday as a backdrop for TV cameras shooting interviews for "Mark Martin Day" in Daytona Beach, Fla., and Volusia County.
"I was 23 then – 1982," said Martin. "That's why the honor given to me … means more than I can describe."
Twenty-three years later, he has amassed a NASCAR career that few have surpassed: 34 Cup victories, a record 45 Busch Series victories, four Cup championship runner-up finishes and four Cup championship third-place finishes.
While Martin has come to grips that he could end his illustrious Cup career without the coveted championship, it doesn't mean he's willing to fade into the sunset.
He captured Nextel Cup's 2005 All-Star race, and he is right in the thick of the points race. He's fifth, 328 points behind leader Jimmie Johnson.
This weekend, he tries to drive the "Batmobile" to Victory Lane in the Batman Begins 400 at Michigan International Speedway. He loves that track; in 38 starts, he has 25 top-10 finishes and four victories.
FIA proposes big changes
Formula One's governing body is proposing new safety and cost-cutting rules for 2008, including a 10 percent reduction of aerodynamic downforce, the use of a single tire supplier and the prohibition of spare cars at races.
Saying it's possible some $2 billion "is being completely wasted" each year by F1 car manufacturers, the Federation Internationale de l'Automobile (FIA) released a summary of the rules changes it will propose to the World Motor Sport Council in October.
Local journalism is essential.
Give directly to The Spokesman-Review's Northwest Passages community forums series -- which helps to offset the costs of several reporter and editor positions at the newspaper -- by using the easy options below. Gifts processed in this system are not tax deductible, but are predominately used to help meet the local financial requirements needed to receive national matching-grant funds.
Subscribe to the sports newsletter
Get the day's top sports headlines and breaking news delivered to your inbox by subscribing here.
---