News > Nation/World
Africa 'on the move,' Wolfowitz says
Sun., June 19, 2005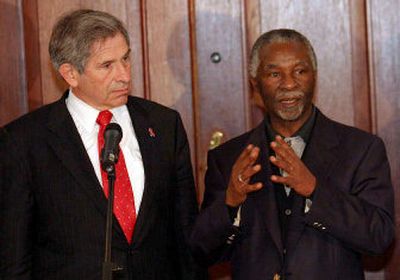 PRETORIA, South Africa – New World Bank chief Paul Wolfowitz wrapped up a four-nation African tour Saturday, saying new leadership on the troubled continent was creating opportunities for partnerships with wealthy countries to fight poverty and encourage development.
"The more I have traveled through Africa in these six days the more I have felt that sense of opportunity and what I can call a 'can do' attitude," he told a news conference after meeting South African President Thabo Mbeki and other government officials.
Mbeki has helped drive the New Partnership for African Development, a plan calling for greater Western aid and investment in exchange for a pledge of good governance and fiscal responsibility by African nations.
Wolfowitz said much of the money loaned to Africa in the past had been misspent by corrupt governments, but new leaders were "taking responsibility" for the continent's future.
"Africa is on the move," he said. "I feel like it is on the move, and I hope the World Bank can help it move faster."
It was Wolfowitz's first trip to Africa since taking the helm of the World Bank earlier this month. The tour came ahead of a meeting of the Group of Eight richest countries in Gleneagles, Scotland, next month, at which fighting poverty is high on the agenda.
Last weekend, G8 finance ministers agreed to cancel $40 billion of debt owed to the bank and other lending organizations by 18 heavily indebted poor nations, most of them in Africa.
But many here say that is not enough. A small group of protesters was waiting for Wolfowitz in Johannesburg on Friday, waving signs that read: "New wolf at the war bank." They accused the World Bank of perpetuating poverty through its loans and structural adjustment programs, and they demanded that it cancel all of Africa's debt without conditions.
Wolfowitz, the former No. 2 official at the Pentagon and a prime architect of the Iraq war, has said African development must be the bank's top priority.
Local journalism is essential.
Give directly to The Spokesman-Review's Northwest Passages community forums series -- which helps to offset the costs of several reporter and editor positions at the newspaper -- by using the easy options below. Gifts processed in this system are not tax deductible, but are predominately used to help meet the local financial requirements needed to receive national matching-grant funds.
Subscribe now to get breaking news alerts in your email inbox
Get breaking news delivered to your inbox as it happens.
---