Sports
Braves battle bad luck after 13-year title run
Sun., June 19, 2005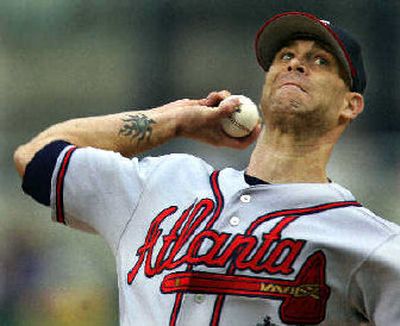 CHICAGO – In many of their years on top of their National League division, the Atlanta Braves have faced a greater degree of difficulty than you might suspect during a 13-year run of such excellence. They have been challenged by the budget cuts that followed a change in ownership as well as a series of terrific division rivals.
While it doesn't appear this is an especially strong season for their National League East competition, 2005 has become the biggest challenge that general manager John Schuerholz and manager Bobby Cox have faced.
Injuries are ravaging the Braves, in particular the starting rotation. Tim Hudson (strained left side), Mike Hampton (forearm tightness) and John Thomson (ruptured ligament, middle finger) are on the disabled list and it doesn't appear any of them is returning soon.
Because of the other injuries, Hudson was trying to pitch through pain in his left side. It became impossible Monday when he gave up five runs on five hits and – the real tipoff – five walks in 2 1/3 innings at Texas. His breaking pitches had no snap and none of his pitches had its usual bite.
"I tried to do it with smoke and mirrors," Hudson said. "We have so many guys hurt, we're running short on bullets. It's one of those things, if we were at full strength, I probably would take a little time off."
He's going to now, like it or not. It's imperative for the Braves that Hudson bounce back. But he has had a recurring problem with that injury, missing time in each of his last three seasons with Oakland.
Hudson, who signed a four-year, $47 million deal with the Braves, said the current injury is several inches above the previous strains. But you know you're in trouble when that passes for good news.
Atlanta got off to a 20-11 start but then lost 21 of 35, falling toward the bottom of the balanced East. The Braves enter today three games behind Washington.
No GM fills midseason holes better than Schuerholz, but at the moment he has a tough time knowing what to fix. There are major holes in the lineup, especially with Chipper Jones on the disabled list, and the bullpen has been a mess with Dan Kolb having a meltdown.
The Braves have used 13 rookies, matching Colorado for the most in the majors. Seven of those guys were in the lineup Wednesday at Texas, the most rookies they had started since Oct 1, 1978, when they were playing out a last-place season.
The Braves are left with three reasons for optimism: pitcher John Smoltz, Cox and Schuerholz. They will need all they can get from all three.
Local journalism is essential.
Give directly to The Spokesman-Review's Northwest Passages community forums series -- which helps to offset the costs of several reporter and editor positions at the newspaper -- by using the easy options below. Gifts processed in this system are not tax deductible, but are predominately used to help meet the local financial requirements needed to receive national matching-grant funds.
Subscribe to the sports newsletter
Get the day's top sports headlines and breaking news delivered to your inbox by subscribing here.
---