Sports
Good time is had by all at football camp
Sun., June 19, 2005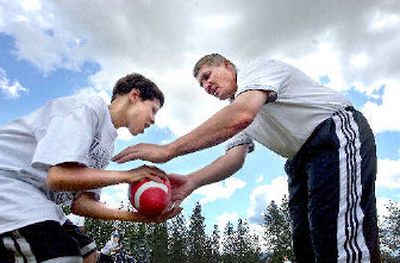 It was a tossup trying to determine who was having more fun – the 52 coaches or the 400-plus kids – Saturday at the second annual Morning Star Boys' Ranch All-Star Football Skills Camp at Ferris High School.
"It's pretty fun for me because every day when we're at practice it's a high-stress thing, not a lot of laughing and goofing around with the coaches," said former Washington State Cougar Steve Gleason, a five-year veteran with the New Orleans Saints. "Here if a kid trips and falls, we're laughing about it and we tell them to just get up and keep going. The fun thing for me is seeing some of these 7- and 8-year-olds who are just determined to be the best kid out here. I remember being that kid."
Former Idaho and Washington assistant coach Dan Cozzetto, a Gonzaga Prep graduate, created the camp in hopes of filling two needs.
"The No. 1 thing is raising money for the boys' ranch," said Cozzetto, who has nearly three decades of coaching experience, most recently with the San Francisco 49ers. "My daughter worked at Morning Star Ranch when she was doing her internship at Gonzaga University in clinical psychology. This was an idea we talked about when I was at Washington a few years ago.
"And No. 2, I want to see Spokane become a power again. Spokane needs to get excited about football again."
Everywhere one turned there was a recognizable face working with a handful of T-shirt-clad youths eager to learn. It was a virtual Who's Who of coaches and players with ties to the region, including NFL players and Spokane prep products Jason Hanson, Erik Coleman and Gleason, and a group of former pros that included Mark Rypien, Mark Schlereth and George Yarno. Area colleges were well represented with Bill Doba (Washington State), Nick Holt (Idaho) and Paul Wulff (Eastern Washington) and members of their staffs.
"It's a fantastic thing Dan is doing for this community to rekindle the interest in football with these young kids," said Washington assistant Chris Tormey, a Gonzaga Prep grad who was head coach at Idaho and Nevada. "Can you believe this?"
In the first hour, Schlereth barked out commands to a group of offensive linemen. "One-two, quick, jab step," shouted Schlereth, a former Idaho Vandal who has three Super Bowl rings. "Eyes up, you should be able to see me."
Twenty feet away, Yarno, a Ferris grad and Washington State assistant who played 11 NFL seasons, told his subjects, "Don't be in a hurry, drive the toe. No base, no balance, no power."
When 12-year-old Brandon Farmin of Kellogg was having issues with his stance and initial strides, Schlereth pulled the youngster to the side for 10 minutes of one-on-one instruction.
"That was really cool," Farmin said. "He helped me get down better so I can get off to a better start. When I'm playing now I can get a better start to block people."
Coleman sported a smile most of the morning as he clowned around with young defensive backs, some of whom didn't come up to his waist. At one point, four coaches, including Coleman and Gleason, were helping seven DBs.
"When I was growing up we didn't have camps like this to go to," said Coleman, the former Cougar who started as a rookie with the New York Jets. "It's great to come out here and show the softer side of playing the game and showing them you can have fun. Playing sports is a good thing. It teaches you a lot about responsibility and accountability and working with people."
Football was the main topic but not the only one. Rypien encouraged every participant to pursue their dreams and to be careful about specializing in one sport. "Football was my least favorite sport," said Rypien, noting his dream was to play in Yankee Stadium until he discovered the cruelty of opponents' curveballs.
Schlereth stressed two themes: Never quit and strive to become a better person.
"How many people have asked you, 'What do you want to be when you grow up?' " asked Schlereth, seeing virtually every hand raised in the crowd. "I would ask, 'Who do you want to be?' Do you want to be a guy who is going to take care of your brothers and sisters, care for your family and love your family?"
Since most of the instructors have ties to the area, reminiscing and needling occupied any spare time.
"(Idaho running backs coach) Joel Thomas lived with me when I was coaching at Purdue and (UI receivers coach) Chad Brown was there, too," said Greg Olson, a former Vandal and Cougar assistant who coaches for the Detroit Lions. "I'm godfather to (Idaho head coach) Nick Holt's son, Ben."
Olson stopped to listen as Rypien addressed the campers. "Me and 'Ryp' played against each other in the quarterfinals in 1981. I was at Richland, he was at Shadle," Olson said. "Richland won, by the way. Hell of a game."
Cozzetto expects the camp to continue to grow.
"It's doubled from last year," he said. "We're going to continue to get quality people in here. All these people that I've associated myself with have helped me. It's a way of giving back."
It's working.
"I'm coming back next year," Farmin said.
Local journalism is essential.
Give directly to The Spokesman-Review's Northwest Passages community forums series -- which helps to offset the costs of several reporter and editor positions at the newspaper -- by using the easy options below. Gifts processed in this system are not tax deductible, but are predominately used to help meet the local financial requirements needed to receive national matching-grant funds.
Subscribe to the sports newsletter
Get the day's top sports headlines and breaking news delivered to your inbox by subscribing here.
---