News > Nation/World
Juneteenth celebrates independence of slaves
Sun., June 19, 2005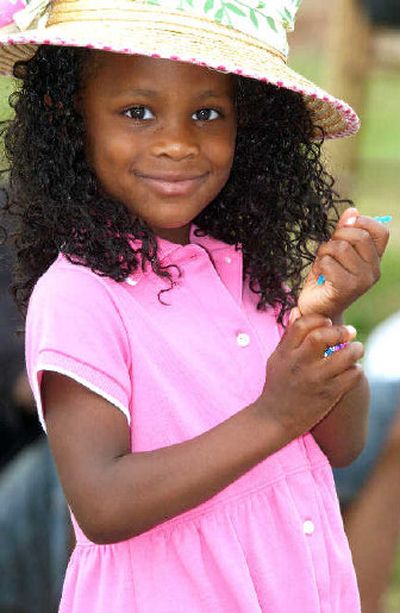 WASHINGTON – As an African American, Richard Bingham has always felt some ambivalence about the Fourth of July.
So when he learned six years ago about Juneteenth, which commemorates the day in 1865 when the last U.S. slaves were notified of their independence, he began hosting an annual party to share food, fellowship and history with his neighbors in Maryland's Prince George's County.
They grilled meat, a tradition started in Texas, where Juneteenth originated. They prayed over shackles and chains provided by a historian friend for ancestors who had been enslaved. Bingham dramatized "The Meaning of the Fourth of July for the Negro," Frederick Douglass' impassioned commentary on the hypocrisy of the holiday.
That small gathering has grown into Prince George's first countywide celebration of Juneteenth Independence Day, a once-obscure commemoration that has spread to more than two dozen states and a national program Saturday that is expected to draw thousands to the Lincoln Memorial.
"The Fourth of July was America's independence day, not ours," said Bingham, 50, of Landover, Md., a trainer with the Maryland Police and Correctional Training Commission. "It wasn't until almost a century later that the nation finally realized that 'We need to let these folks be free, too.'
"Juneteenth Day," he added, "is our independence day."
A combination of the words "June" and "nineteenth," Juneteenth was born out of a spontaneous celebration that erupted June 19, 1865, when Union Maj. Gen. Gordon Granger landed in Galveston, Texas, declared U.S. sovereignty over Texas and officially notified the state's 250,000 slaves that they were free. That was 30 months after President Abraham Lincoln delivered the Emancipation Proclamation.
The anniversary, traditionally celebrated on the third Saturday of the month, is now observed formally in 17 states. Several others have recognized it through gubernatorial proclamations or legislation.
Texas made it a state holiday in 1980. New York Gov. George Pataki last year signed a law establishing Juneteenth Freedom Day. Washington passed legislation in 2003 recognizing Juneteenth.
In 1997, Congress recognized the day with a resolution sponsored by Sen. Trent Lott, R-Miss., in the Senate and Rep. J.C. Watts, R-Okla., in the House. Two years later, a group of black leaders brought the observance to the Mall, celebrating with prayers, speakers, poetry, song and dance.
"Juneteenth is about American history," said the Rev. Ronald Myers, chairman of the National Juneteenth Observance Foundation. "The nation declared its independence on July 4, 1776, and the last slaves were freed on June 19, 1865. We need to acknowledge both days when we celebrate our freedom."
This year's commemoration comes as advocates press leaders to acknowledge the country's past wrongs against African Americans. On Monday, the U.S. Senate apologized for failing to approve anti-lynching legislation, the first time the body has apologized to African Americans.
Local journalism is essential.
Give directly to The Spokesman-Review's Northwest Passages community forums series -- which helps to offset the costs of several reporter and editor positions at the newspaper -- by using the easy options below. Gifts processed in this system are not tax deductible, but are predominately used to help meet the local financial requirements needed to receive national matching-grant funds.
Subscribe now to get breaking news alerts in your email inbox
Get breaking news delivered to your inbox as it happens.
---