News > Features
Michael's demeanor all goes back to the raising of Caine
Sun., June 19, 2005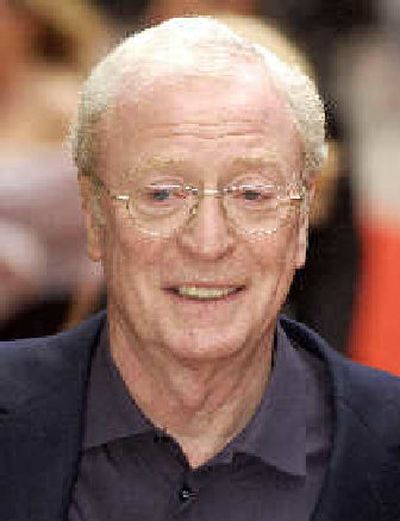 He may be a knight of the realm, but Michael Caine knows a thing or two about being a servant.
After all, he grew up in the grand estates of Britain – but not as the coddled, upstairs heir-apparent. No, he was the downstairs ragamuffin.
"My mother was a cook. So I was always backstairs with the butler and everything, so I knew that relationship," Caine says.
In "Batman Begins" Caine plays the butler of all butlers, Alfred Pennyworth, Batman's valet and true-blue companion.
"I knew the lines above which a real butler wouldn't go in familiarity," he says.
As Alfred, Caine is not only alert to Bruce Wayne's, er, "eccentric" needs, he's a father-figure as well.
"I call him 'Master Wayne' throughout the whole picture, even though he's whatever age he is," says Caine.
"(I)t's also quite humorous because (Alfred) talks to him as though he's a human being, instead of here's this incredible icon," he adds. "And he's also the butler, but he's a bit tougher than that. So it's a very different sort of butler."
Caine is a different sort of actor, too.
The man who has played everything from a cross-dressing killer to a beauty consultant left school at 15 and got interested in acting a year later when he served tea in a London theater.
He began as an extra and bit player after years of toiling at odd jobs like hoisting crates in a butter factory, shivering in a meat market and starting his show-biz career as a lowly stage manager.
Five years ago Caine was knighted by the queen, but he remains unimpressed.
"(T)o go around the world expecting people in other countries – who have no idea what you're talking about – to call you 'Sir' is ridiculous," he says. "Everyone calls me Michael, I insist on that on the sets, everyone, even the little girl assistant. … I come from very humble beginnings, and I remember all those things.
"And also I was a small-part actor, you have to remember, treated like dirt by the stars sometimes, and I remember that. And so that sort of formed how I behave on a movie set, and I never lose my temper. I go home and smash the windows," he smiles.
Caine also appears in the upcoming "Bewitched," in which he plays Nicole Kidman's father.
"On 'Bewitched,' it was the first time I'd ever worked in a movie where I never did a scene with a man," he says. "I only did scenes with Nicole, Shirley MacLaine, Kristin Chenoweth, and the director was a woman, Nora Ephron.
"And so it was a very feminine time for me, it was lovely. It was the first movie I've worked on where the director cooked your dinner on Sunday night and served it herself. …
"So it wasn't like going to work, really. I just said, 'Get me some stuff,' and people got me stuff, and gave me a cup of tea every now and then."
The birthday bunch
Actress Gena Rowlands is 69.Singer Elaine "Spanky" McFarlane (Spanky and Our Gang) is 63. Actress Phylicia Rashad is 57. Singer Ann Wilson (Heart) is 55. Actress Kathleen Turner is 51. Country singer Doug Stone is 49. Singer-dancer-choreographer Paula Abdul is 43. Actress Robin Tunney is 33.
Local journalism is essential.
Give directly to The Spokesman-Review's Northwest Passages community forums series -- which helps to offset the costs of several reporter and editor positions at the newspaper -- by using the easy options below. Gifts processed in this system are not tax deductible, but are predominately used to help meet the local financial requirements needed to receive national matching-grant funds.
Subscribe now to get breaking news alerts in your email inbox
Get breaking news delivered to your inbox as it happens.
---