News > Business
Modern-day merchants cashing in on history
Sun., June 19, 2005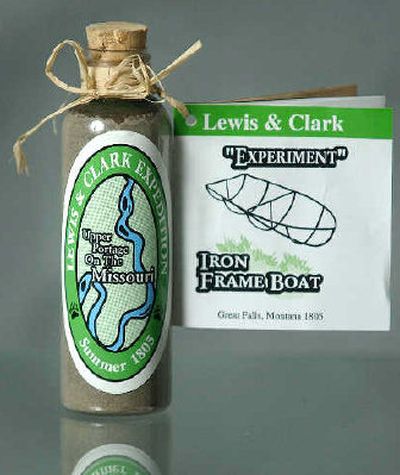 GREAT FALLS, Mont. — Corps of Discovery buffs can wash down a Pompey Steak Sandwich with a Lewis and Clark Lager at the Holiday Inn while in town for this month's "Explore the Big Sky" commemoration.
They also can pick up bottled sand from a confirmed expedition campsite.
It's been 200 years since Meriwether Lewis and William Clark left a cache near Great Falls on their way to the Pacific Coast.
But Great Falls-area businesses and entrepreneurs are ready to cash in as tourists arrive for 34 days of events commemorating the Corps' journey through the area. Most say they expect a boost during the event and hope Lewis and Clark fever lingers after the closing ceremonies July 4.
"We see this as a legacy event. The tourist will keep coming back to Great Falls to see these sites," said Casey Buckingham, sales director at the Holiday Inn in Great Falls.
Three years ago, the hotel renamed its restaurant The Portage, peppering the menu with Lewis and Clark trivia and items with Corps-themed names, such as the Jefferson Sirloin. The bar is now the Ordway Lounge, named after Sgt. John Ordway who was in charge of the Corps' liquor rations.
"Reaction has been great. People like it, especially the tourists here because of Lewis and Clark," Buckingham said.
Helena beer maker Mark Pigman changed the name of his business, too, from Sleeping Giant to Lewis and Clark Brewery.
Bicentennial events are a plus, but they weren't the main motivation for the switch.
"We've expanded, and outside Helena, the name Sleeping Giant is less-known and less-understood," Pigman said. The Sleeping Giant is a mountain north of the city.
"Sleeping and beer don't really go well together when you're trying to market," he added.
But Lewis and Clark do. Sales of Lewis and Clark Lager, both bottles and kegs, from January to June 1 were double what they were during the same time last year.
Almost everyone studied the Corps of Discovery in history class, so the name Lewis and Clark is widely recognized, Pigman said.
"To be associated with these great men is great marketing," he said. "It's nuts. I have people calling for our tap handles and posters. We're selling T-shirts and pint glasses with the label's logo in gift shops and airports."
A few years ago, Mike Masters had trouble getting his family to buy into an idea to bottle sand at his in-law's dairy near Great Falls and coin it a "Lewis and Clark stepped here" novelty.
But once experts confirmed that the Mitchell family's Ayrshire Dairy was the site of the Corps' upper portage around the Great Falls of the Missouri River, his wife and others warmed up.
"We own the land, so this is a unique opportunity," Masters said.
The family — mainly his wife, Fran, and her aunt Janice Leslie — sifted and cooked buckets of sand from the riverbank.
"We wax-sealed the bottles, but if the sand does get out, you won't need to worry abut bacteria growing in there," Masters said.
The wholesale cost is about $3 a bottle, with quantity discounts.
The bottles are packaged with Lewis and Clark information about the portage site and an iron boat that was cached there.
The boat's exact location is still unknown, just like the exact number of Lewis and Clark visitors Great Falls can expect.
But the events are a draw, even if that draw can't be quantified yet, business folks say.
"We have conventions that booked to be here during Explore the Big Sky," Buckingham said. "Our tour bus business is almost double in June from a year ago, and we have a big increase in group reservations. We are sold-out almost every weekend in June."
The O'Haire Motor Inn didn't sell a lot of packages offered on the Explore the Big Sky Web site, but did get reservations from that venue. And the motel is ready to greet them.
Guests who arrive for the Explore the Big Sky events are greeted with gift baskets stuffed with Lewis and Clark trinkets and Made in Montana goodies. They can also dine at Clark and Lewie's Restaurant, which was renamed when the motel remodeled two years ago.
Retailers are ready, too.
The Made in Montana Store's stock of Lewis and Clark-related T-shirts and such is larger right now, said Elizabeth Bruskotter, the store's owner.
"We have more items, and we are broader or deeper with Lewis and Clark merchandise," she said.
Local journalism is essential.
Give directly to The Spokesman-Review's Northwest Passages community forums series -- which helps to offset the costs of several reporter and editor positions at the newspaper -- by using the easy options below. Gifts processed in this system are not tax deductible, but are predominately used to help meet the local financial requirements needed to receive national matching-grant funds.
Subscribe now to get breaking news alerts in your email inbox
Get breaking news delivered to your inbox as it happens.
---