News > Spokane
Musicians add shine to city streets
Sun., June 19, 2005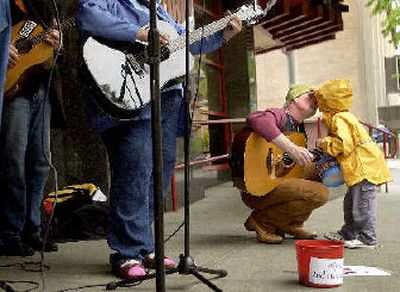 Spokane Street Music Week ended on a slick but far from sour note.
"It's been laundered," quipped a musician as he turned in his bucket of rain-soaked money Friday afternoon.
Rain or shine may be just a state of mind, as The Beatles once observed. But wet weather doesn't create the most lucrative environment for sidewalk minstrels trying to drum up donations for a food bank.
Scattered showers notwithstanding, Spokane Street Music Week was no washout.
Before announcing our grand total I'd like to make a brief instructional announcement.
True, the signs on the red collection buckets did say "All proceeds go to 2nd Harvest Food Bank." That, however, doesn't mean I am going to give the food bank everything that was tossed into the buckets.
The uneaten pudding cup, for example.
Or the Bic lighter. Or the tiny heart-shaped piece of junk jewelry. Or the used tin of black shoe polish.
Shoe polish? What was that all about?
I'm guessing the food bankers won't be too put out if I don't send these things along with the check.
Oh, well. At least these random items are still technically donations.
There are a lot of tightwads out there who wouldn't cough up a used toothpick. Many of them scurried past the donation sites with their heads bowed. They looked like they were afraid they would burst into flames if they made any eye contact.
Thank goodness for the generous souls.
Because of them Spokane Street Music Week took in – may I have a drum roll – $1,202.10.
This includes a $400 donation from my pals at Cue11 (formerly VU Music). Dave Cebert, Cue11's el presidente, has been underwriting Spokane Street Music Week since it began in 2003.
It was a mere solo outing back then.
One day I quit moaning about the dismal-to-nonexistent street music in downtown Spokane and decided to pick up my guitar and do something about it.
Now it is a real event with many fine musicians giving their time and skills. For five weekdays these players made the city come alive during the noon hour with good vibrations.
So let me thank:
Chris Moyer, Craig Landron, Jim and Sally Shamp, Joe Young, Laurel Tanaka, Marge McFaul, Wayne and Marian Meredith, Carrie Hamby, Dave McRae, Ernie Vollmer, Corbin Smith, Dannie Lynn Plummer, Wally Friel, Ed Robison, Patrick Klausen, Charley Gurche and Ken Glastre.
Artist Charlie Schmidt (of Charlieschmidt.com) designed the street music poster. Homestead Birkenstock owners Jim King and George Stewart allowed their Main and Wall location to become the official Spokane Street Music Week home base.
My apologies in advance if I left anybody out. Blame the rain for smearing the ink in my notebook.
This edition of Spokane Street Music Week saw a couple of firsts.
We had our first ukulele player in John Griffith. Kevin Brown, who hosts "Front Porch Bluegrass" (Sunday's 1-2 p.m. on KPBX FM at 91.1), played for the first time with his band, "Big Red Barn."
We also had our first a cappella singer in Monte McConnell.
"I used to sing in a band called The Misfits," the gravel-voiced McConnell told me when he called to volunteer his vocal services.
"When was that?" I asked.
"Oh, 1964 to 1966," he said.
McConnell must still have some chops. The man came downtown and took an empty bucket. He brought it back holding a wad of greenbacks.
As always, I had a swell time singing and strumming away.
"Clark the Herald Douglas Sings," read a note written on a napkin that was tied to a bill and dropped into my bucket. "Glory to the Busker King!"
A high point for me came in picking the "Deliverance" theme with my columnist colleague Jim Kershner. (For the record, Kershner played the part of the albino banjo player.)
Another memorable moment came on Thursday. Cebert accompanied me with an accordion while guitarist extraordinaire Joe Brasch added some flashy lead.
"I love it," says Jim Lyons of Spokane Street Music Week. "It's an annual event."
Lyons, a guitar player, holds the distinction of being the only musician to perform all five days this year and last. This time around he brought his son, Ben, and daughter, Emma.
Lyons plans to return next year.
"It's great to be helping the food bank," he says. "And it's fun to force people to smile when they are trying to ignore you."
But please, people. Keep your shoe polish to yourselves.
Local journalism is essential.
Give directly to The Spokesman-Review's Northwest Passages community forums series -- which helps to offset the costs of several reporter and editor positions at the newspaper -- by using the easy options below. Gifts processed in this system are not tax deductible, but are predominately used to help meet the local financial requirements needed to receive national matching-grant funds.
Subscribe now to get breaking news alerts in your email inbox
Get breaking news delivered to your inbox as it happens.
---