News > Business
Pharmacy takes off across the nation
Sun., June 19, 2005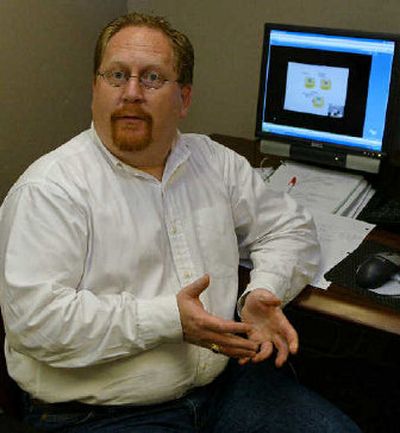 OKLAHOMA CITY — Ten years after graduating from the University of Oklahoma with a bachelor's degree in business, Mark Fain's dream of earning enough money to allow his wife to stay home with their two children had been replaced with the reality of a $30,000-a-year job as a customer sales representative at Ford Motor Credit Company.
Now Fain is back in school, working on a pharmacy degree that will likely allow him to triple his salary and have his pick of employers.
Applications to pharmacy schools across the nation have soared as word has spread that graduates are virtually guaranteed lucrative jobs. Pharmacy openings are multiplying as the aging population increasingly needs professionals to dispense, manage and research a growing list of prescription medications. Even as more universities offer pharmacy degrees and turn out larger graduating classes, the industry projects there won't be enough bodies to avoid a personnel shortfall.
Nearly 73,000 students applied for admission to pharmacy schools last fall, and about one in seven were accepted. This compares to about 47,000 applicants the previous year and just over 33,000 in 2002, according to the American Association of Colleges of Pharmacy. Last year, 7,770 students received PharmD, or doctor of pharmacy degrees, the most ever, according to the association.
Fain's switch to pharmacy hasn't been easy. As a business major, he had never taken any science classes and knew nothing about medicine.
He took two years of pre-pharmacy requirements at Rose State College in Midwest City, Okla. before being accepted into the University of Oklahoma College of Pharmacy for a four-year course of study. He carries a full course load and and studies 35 to 40 hours a week; until he graduates in 2008, the burden of supporting the family falls on his wife, Karen, who works as an accountant.
"It's not easy for a household of four on one income and loans coming out my ears," said Fain, 39. "It gets tight every now and then."
But the potential payoff makes the sacrifices worth it.
Jennifer Stark, an assistant professor of pharmacy at the school, said graduates are getting jobs paying $90,000 a year.
"If you're willing to go to the (Oklahoma) Panhandle or Texas you could make six digits," she said. She said graduates can often can command higher earnings in rural areas where there is a shortage of pharmacists.
According to a 2003 survey by Drug Topics magazine, the median annual salary of pharmacists was $89,723 in 2004, compared to $82,607 in 2002, $78,624 per year in 2000 and $64,980 per year in 1999.
Between 2004 and 2010, the supply of community pharmacists is expected to increase 7.8 percent, while the number of prescriptions dispensed is estimated to grow 27 percent, according to data released by the National Association of Chain Drug Stores.
A shortfall of as many as 157,000 pharmacists is predicted by 2020, according to the findings of a 2001 conference of pharmacy experts sponsored by the Pharmacy Manpower Project, Inc., and headed by David Knapp, dean of the the University of Maryland College of Pharmacy.
Four years later, the prognosis is the same. Baby boomers are nearing 60, the age at which prescription medication use increases markedly, said Knapp.
"As people get older, they get frailer and get more chronic conditions," Knapp said. "Someone is needed in the health care system who will help them use their drugs better."
There are 89 accredited pharmacy schools in the United States, up about a dozen from five years ago and another 10 schools are expected to open by 2010 to meet the growing demand.
In addition to dispensing medication, pharmacists are taking on a greater role in helping patients manage their use of medication.
Pharmacists are appearing more often in nursing homes to monitor elderly patients, who may be taking as many as 10 or 15 medications daily, and in hospitals to monitor the pain medication for terminally-ill patients, Knapp said.
The strong demand for personnel gives Fain confidence that he made the right choice in changing fields from business to pharmacy. But now he is also excited to work in the profession and looks at it as more than just a high-paying job.
"The money will be there. That's a given," he said. "It's a love. You have to want to do it."
Local journalism is essential.
Give directly to The Spokesman-Review's Northwest Passages community forums series -- which helps to offset the costs of several reporter and editor positions at the newspaper -- by using the easy options below. Gifts processed in this system are not tax deductible, but are predominately used to help meet the local financial requirements needed to receive national matching-grant funds.
Subscribe now to get breaking news alerts in your email inbox
Get breaking news delivered to your inbox as it happens.
---