News > Nation/World
South African rain queen dies at age 27
Sun., June 19, 2005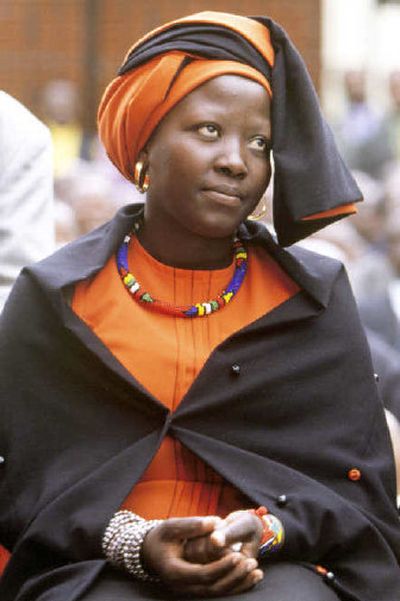 JOHANNESBURG, South Africa – Makobo Modjadji, the rain queen of South Africa's Balobedu people, has died of unspecified causes after two years in power, the Modjadji Royal Council said Monday. She was 27.
The queen was admitted to a hospital June 10 and died two days later, a spokesman said. He didn't disclose a cause of death.
The Balobedu of the northern Limpopo province believe magical powers are passed from queen to queen, allowing her to transform clouds and create rain at a ceremony each November.
Modjadji, who was crowned in 2003 at age 25, was the tribe's sixth and youngest queen and the only one to be formally educated. The tribe is one of the few in Africa to have a leader who comes from a female line of succession.
H. Rider Haggard's classic novels "King Solomon's Mines" and "She" first drew the world's attention to the legendary rain queen in the 1880s. Her power was so feared that the Balobedu were left in relative peace for centuries despite wars raging around the region. In times of drought, caravans of gifts were sent to their community, more than 150 rural villages set near thick forests full of rare cycads.
While the rain queen is monarch, she governs through a council of men. Custom forbids the queen from marrying, but the royal council chooses consorts for her for the sake of procreation.
While modern meteorology has robbed the rain queen of much of the awe she once commanded, her cultural influence is acknowledged even by secular politicians. Modjadji's predecessor received visits from former presidents Nelson Mandela and F.W. de Klerk.
Local journalism is essential.
Give directly to The Spokesman-Review's Northwest Passages community forums series -- which helps to offset the costs of several reporter and editor positions at the newspaper -- by using the easy options below. Gifts processed in this system are not tax deductible, but are predominately used to help meet the local financial requirements needed to receive national matching-grant funds.
Subscribe now to get breaking news alerts in your email inbox
Get breaking news delivered to your inbox as it happens.
---