Sports
What's good for the Goosen …
Sun., June 19, 2005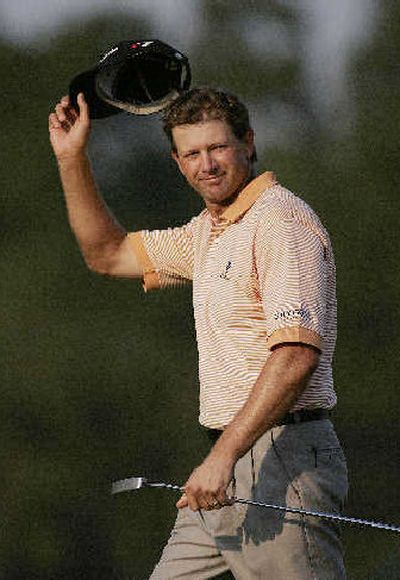 PINEHURST, N.C. – What two-time and defending U.S. Open champion Retief Goosen can become or grab in today's final round of the 105th U.S. Open at Pinehurst Resort:
"The seventh golfer to win consecutive Open titles and first since Curtis Strange in 1988-89;
"The sixth golfer – and only the second foreign-born – to win the Open more than twice;
"A little more respect.
Given his credentials, the first two seem likely; the third is still a wait-and-see.
With a 1-under-par 69 Saturday in maddening conditions at the Donald Ross-designed No. 2 course, his third round of par or better this week, Goosen took a three-stroke lead over Jason Gore and Olin Browne.
At 3-under overall, the 36-year-old South African can join Hale Irwin as the only three-time Open champions and Scottish-born Willie Anderson as the only foreign-born players to win it more than twice.
Anderson – a four-time winner in the 1900s, when ex-patriot Britons won every U.S. Open until Johnny McDermott in 1911 – Bobby Jones, Ben Hogan and Jack Nicklaus are the only four-time Open champions.
"Obviously it would be great to win this event back to back," said Goosen, the winner in a three-man playoff in 2001 at Southern Hills Country Club in Tulsa, Okla., and last year in brutal conditions at Shinnecock Hills Golf Club in New York. "That's a long way away still. It would be great. But I don't really want to think about it yet. We know it's going to be tough out there (today) to stay with it."
With the turtle-backed greens of Ross' design repelling seemingly every ball but those placed on the green before a putt, Goosen ended the round as the only player where three started it: in red numbers.
Gore and Browne, who shared the lead with Goosen after two rounds at 2-under, shot matching 72s to slip to even-par but remain in contention as the best Mutt-and-Jeff combination of U.S. Open contenders in years.
Gore, 31, a self-effacing Nationwide Tour member who called himself a "cheese ball" for pointing at the hole after making birdie on the 18th hole, is trying to become only the third golfer in history and first since Orville Moody in 1969 to win the Open after going through local and sectional qualifying.
After insisting going into the third round he had little chance to hang around on the weekend, Gore has earned himself a final-group pairing with Goosen, whom Gore calls "very tough mentally, but so am I."
"I think today was a big test … and I hung in there," said Gore, who played on the PGA Tour in 2001 and 2003 but otherwise has been on the Nationwide Tour since 1998. "Maybe tomorrow won't be as bad as today was."
Browne, 46, the co-leader after the first and second rounds, has two career wins on the PGA Tour but otherwise has been a non-descript professional who as recently as last year was considering quitting the game.
"Still here hanging," said Browne, who needed a 59 in the second round of sectional qualifying just to reach Pinehurst. "Some people didn't think I was going to be hanging this late, but I'm hanging."
Should Goosen falter, a flood of golfers are just behind Gore and Browne, led by Australian Mark Hensby (72) and New Zealand's Michael Campbell (71) at 1 over. David Toms (70) is 2-over, Tiger Woods (72) is among four golfers at 3 over and Vijay Singh and Peter Jacobsen are among four players at 4 over.
"There's probably 10 guys that are in there with a shot," Goosen said. "It really all depends on what I do tomorrow. … It's not easy to make up ground on this course. It's easy to lose ground."
No one expects Goosen to do that.
Gore called Goosen "cold as ice." Browne said Goosen has the "perfect demeanor" for the grinding, Open-style of golf, the same demeanor that often leaves Goosen overlooked by the public and media despite being ranked No. 5 in the world.
"That's what you need on a course like this: no heartbeat and a great short game," said Aaron Oberholser, tied for 11th after a 71.
"I think his heart races," said three-time major winner Nick Price, 5-over after a 72 in the third round. "He's like a duck on a pond. You don't know how fast his feet are going."
Goosen and those who know him have long insisted there's more to him than meets the eye.
More of the same placidness from him today may force others to take a greater look.
"When the kids keep me awake at night, that bothers me," Goosen, a father of two young children, said when asked what unnerves him.
Local journalism is essential.
Give directly to The Spokesman-Review's Northwest Passages community forums series -- which helps to offset the costs of several reporter and editor positions at the newspaper -- by using the easy options below. Gifts processed in this system are not tax deductible, but are predominately used to help meet the local financial requirements needed to receive national matching-grant funds.
Subscribe to the sports newsletter
Get the day's top sports headlines and breaking news delivered to your inbox by subscribing here.
---