News > Nation/World
5.0 earthquake hits off California
Mon., June 20, 2005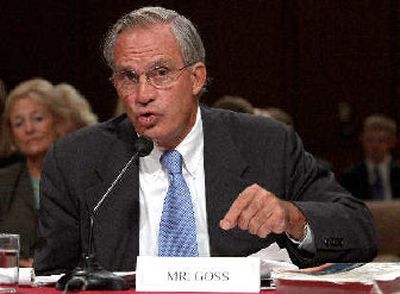 Eureka, Calif. A 5.0-magnitude earthquake hit about 120 miles off the Northern California coast early Sunday, near where a larger temblor prompted a brief tsunami warning last week, officials said.
Sunday's quake was centered about 130 miles west of Eureka. Officials said there were no immediate reports of damage or injuries.
A 7.0-magnitude quake struck off the coast Tuesday, prompting an hourlong tsunami warning from the California-Mexico border to Vancouver Island, British Columbia.
Mourners remember boy who died on ride
Sellersville, Pa. Mourners gathered Saturday to remember a 4-year-old boy who died after going on a ride at Walt Disney World, and the child's mother recalled how her son wanted to give his toys to children he had met on a trip to Africa.
Daudi I. Bamuwamye, of Sellersville, died last Monday after riding "Mission: Space" at the Epcot theme park in Orlando, Fla. The cause of death is being examined.
The ride, which simulates a rocket launch and trip to Mars, includes motion-sickness bags. Some riders have been treated for chest pain.
Movie-inspired prank sparks legal charges
Lykens, Pa. A man and a teen face criminal charges for allegedly staging a fake kidnapping re-creating a scene from a film that celebrated stunts and gross-out gags.
A store clerk reported the apparent kidnapping Wednesday, saying that as a customer was paying for gas, a blindfolded teen jumped from the trunk of the car with his hands bound. The customer chased the teen, caught him, threw him back into the trunk and drove off, police said.
When officers found Daniel Reedinger, 31, and the teen, the pair said they were re-enacting a prank from "Jackass: The Movie."
Reedinger was charged with creating a false alarm, corruption of minors and disorderly conduct. The 15-year-old was charged with creating a false alarm and disorderly conduct.
CIA chief has 'idea' of bin Laden location
New York The director of the CIA says he has an "excellent idea" where Osama bin Laden is hiding, but the United States' respect for sovereign nations makes it more difficult to capture the al Qaeda chief.
Porter Goss made the statement in an interview with Time for the magazine's June 27 issue. Asked if he knows where bin Laden is, Goss said: "I have an excellent idea where he is. What's the next question?"
Goss did not say where he thinks bin Laden is located. American officials long have said they believe bin Laden is hiding in mountains along the Afghanistan-Pakistan border.
Authorities searching for missing airplane
Sussex, N.J. Police searched Sunday for a small plane missing near the Sussex airport.
The Cessna 182 took off from the airport and headed for Stratford, Conn., officials said.
The plane was 4 miles south of the airport when the radar showed the pilot starting to turn back. The plane then disappeared from the radar.
Only the pilot was believed to be aboard.
Weather at the airport was overcast early Sunday morning, but visibility was good below the clouds, airport manager Paul Styger said. Authorities planned to resume the search today.
Local journalism is essential.
Give directly to The Spokesman-Review's Northwest Passages community forums series -- which helps to offset the costs of several reporter and editor positions at the newspaper -- by using the easy options below. Gifts processed in this system are not tax deductible, but are predominately used to help meet the local financial requirements needed to receive national matching-grant funds.
Subscribe now to get breaking news alerts in your email inbox
Get breaking news delivered to your inbox as it happens.
---