News > Nation/World
Bush firm over U.N. pick, Rice says
Mon., June 20, 2005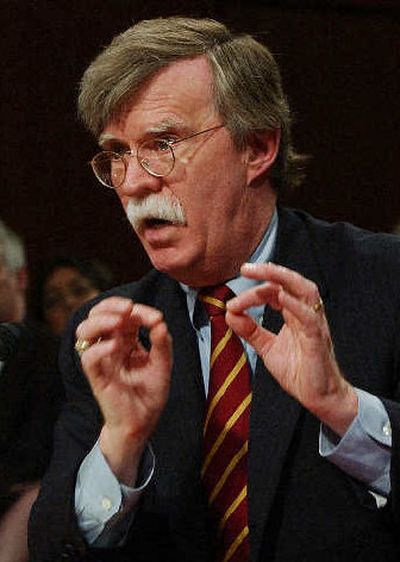 WASHINGTON – Secretary of State Condoleezza Rice declined to rule out the possibility Sunday that President Bush temporarily would make John R. Bolton the U.N. ambassador if Senate Democrats continue stalling his nomination.
In television interviews, Rice also gave no indication the Bush administration would accede to Democrats' demands for more information about Bolton's requests for classified data.
"What we need to do is we need to get an up-or-down vote on John Bolton," Rice told ABC's "This Week."
Senate Democrats say they will continue to try to block Bush's nomination of Bolton as U.N. ambassador. Although Senate Majority Leader Bill Frist, R-Tenn., plans to try today to end a Democratic filibuster on the nomination, Democrats believe they still have enough votes to continue debate.
Asked on "Fox News Sunday" whether Bush would consider a recess appointment of Bolton – a temporary appointment that does not require Senate approval – Rice said, "We'll see what happens this week."
The Senate plans to take a July Fourth recess in two weeks. Under the Constitution, a president can make an appointment during a Senate recess without the chamber's approval of the nominee. That appointment lasts only through the next one-year session of Congress – which, in this case, would mean until January 2007.
It was unclear if Rice's statement was an indication that the administration seriously would consider a recess appointment for the controversial nominee or whether it was meant only to increase leverage for White House bargaining with Senate Democrats.
"Let's find out whether, in fact, the Senate, in its whole, in its entirety, intends and wants to confirm him. That's all that we're asking," Rice said from Jerusalem on a Middle East visit.
One of Bolton's leading opponents, Sen. Christopher Dodd, D-Conn., said a recess appointment would send to the United Nations an ambassador "who lacks the confidence of the United States Senate."
Democrats say they want to check a list of 36 U.S. officials against names – initially blacked out – that Bolton requested and received from national security intercepts he reviewed.
Bolton has been accused of intimidating or trying to have fired at least two intelligence analysts because of disagreements over their work. Opponents also have contended that Bolton's abrasive management style and past criticism of the United Nations make him a poor choice to be ambassador.
Local journalism is essential.
Give directly to The Spokesman-Review's Northwest Passages community forums series -- which helps to offset the costs of several reporter and editor positions at the newspaper -- by using the easy options below. Gifts processed in this system are not tax deductible, but are predominately used to help meet the local financial requirements needed to receive national matching-grant funds.
Subscribe now to get breaking news alerts in your email inbox
Get breaking news delivered to your inbox as it happens.
---