Sports
Da Matta da man in Portland race
Mon., June 20, 2005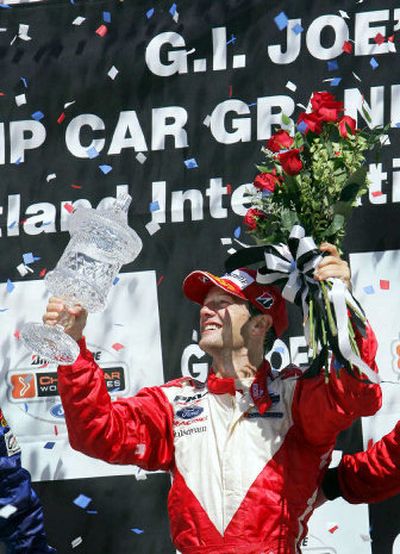 PORTLAND, Ore. – Cristiano da Matta could consider his victory at Portland something of a repeat – three years later.
Da Matta gambled with an early pit strategy and cruised to victory Sunday in the Champ Car Grand Prix of Portland, where he also won in 2002. That was his last year with the series before switching to Formula One.
The 2002 Champ Car champion finished 10.128 seconds in front of defending champ Sebastien Bourdais and then did doughnuts for fans at Portland International Raceway.
Paul Tracy, who won two weeks ago at Milwaukee, finished third on the 1.964-mile road course.
Under cloudless skies, da Matta led 50 of the 105 laps after pole sitter Justin Wilson's engine failed. The Brazilian, who is now driving for PKV Racing, had not won a race since 2002, when he won seven.
"Being so far away from the winning circle for so long, and being with a new team, it feels even better than a normal win," da Matta said. It was his 12th career victory.
Wilson started from the pole for the first time and had a lead of more than 10 seconds on Tracy when he suddenly lost power. RuSport owner Carl Russo said the team did not know the exact cause of the problem. Da Matta took the lead when the leaders pitted under caution.
After stretching his margin to more than 18.5 seconds, da Matta pitted early for the second time and surrendered the lead to Bourdais. But not for long.
Tracy didn't realize da Matta was in the lead until after the race was over. He thought he was trying to catch Bourdais at the end.
"I figured he (da Matta) was too far behind to make up the difference," Tracy said.
In 2002, da Matta had the pole and led 55 laps. The next season he left Champ Car to run in Formula One with Toyota. Portland was the second of four consecutive victories in 2002.
Da Matta said his victory on Sunday does not mean that he's recaptured that Champ Car form.
He'll be among those who race the next event, next Sunday at Cleveland.
"It's no good if we are quick here and we get to Cleveland and we are off," he said.
In first-round qualifying on Friday, Bourdais had to forfeit his best lap because he came out of the pits at the same time Wilson was passing at full pace. Then he contested second-round qualifying results Saturday, claiming a power outage meant his best lap wasn't timed.
That drew attention away from Wilson, whose qualifying lap of 57.597 seconds (122.756 mph) Friday established the record on the road course, which was modified and shortened slightly to smooth out the Festival Curves.
Wilson tried to put a positive spin on his weekend, despite his car's failure.
"I don't know what happened. The car just died halfway down the straight. The car was fantastic! It was great to drive," Wilson said. "The team and the engineers did a good job on the car all weekend."
Bourdais won the race from the pole last year, finishing ahead of Newman-Haas teammate Bruno Junqueira. Bourdais led for most of the race and won by 1.247 seconds.
Junqueira was leading the series in points this year before he broke his back at the Indianapolis 500, where he and Bourdais were the only Champ Car drivers in the 33-car Indy Racing League lineup.
Junqueira fractured two vertebrae and underwent surgery the next day. There was no timetable for his return. Oriol Servia, who took his place on the team, had mechanical trouble and did not finish.
Alex Tagliani completed just eight laps before pulling off the course with apparent engine trouble. It was a rough morning for Tagliani, who had back spasms and sought medical attention before the race.
"I think there was a major problem with the oil pickup," said Tagliani, who said there was no way the car could have finished the race.
Ken Deagle, track support manager for Cosworth Racing, which supplies car engines, said Wilson and Tagliani both had the same problem: The oil pump drive failed on each car. But the cause wasn't known.
"It is a pretty hot issue right now. I can't tell you what happened because we don't know yet. We are waiting to receive their engines to diagnose the problem," Deagle said.
"I can tell you that both teams did nothing wrong."
Local journalism is essential.
Give directly to The Spokesman-Review's Northwest Passages community forums series -- which helps to offset the costs of several reporter and editor positions at the newspaper -- by using the easy options below. Gifts processed in this system are not tax deductible, but are predominately used to help meet the local financial requirements needed to receive national matching-grant funds.
Subscribe to the sports newsletter
Get the day's top sports headlines and breaking news delivered to your inbox by subscribing here.
---