News > Nation/World
Gaza homes to be demolished
Mon., June 20, 2005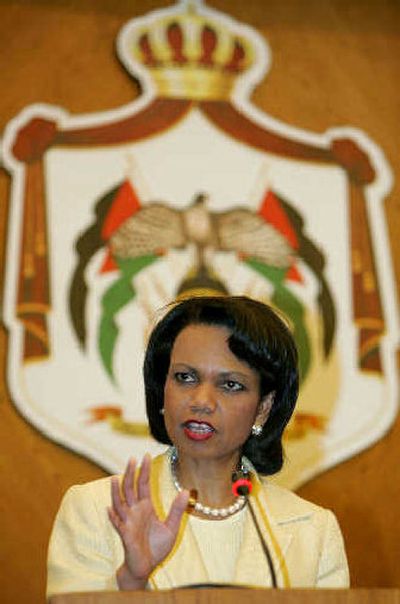 JERUSALEM – Secretary of State Condoleezza Rice announced Sunday that Israel and the Palestinian Authority have agreed that the homes of Jewish settlers should be demolished as part of Israel's planned withdrawal from the Gaza Strip.
Rice, who is on a weeklong visit to the Middle East, met Israeli Prime Minister Ariel Sharon after talks Saturday with Palestinian President Mahmoud Abbas to promote coordination of the Gaza withdrawal, scheduled to begin in mid-August. The two leaders are expected to hold a summit Tuesday.
At a news conference, Rice laid out what she called "principles for disengagement" agreed to by Sharon and Abbas, with the aim of ensuring a peaceful withdrawal and creating conditions for economic recovery in the Gaza Strip. Israel plans to evacuate about 9,000 settlers and the troops protecting them from the Gaza Strip, and several hundred more settlers living in four enclaves in the West Bank.
Sharon originally said the withdrawal would be a "unilateral disengagement," but he agreed to coordinate with the Palestinians after Abbas succeeded Yasser Arafat as Palestinian leader. The Bush administration has promised to help, dispatching Lt. Gen. William Ward as a security coordinator. James Wolfensohn, the former head of the World Bank, has been designated by the so-called quartet of Middle East mediators – the United States, the European Union, the United Nations and Russia – to help coordinate civilian aspects of the withdrawal.
Rice said Israel and the Palestinian Authority "recognize that Israeli withdrawals must proceed peacefully and without violence directed toward both withdrawing settlers or (army) forces," and that both sides agreed to "take the necessary actions, and will coordinate those actions where appropriate, to ensure a peaceful disengagement and create conditions for economic viability and hope for the Palestinian people."
Israeli officials have begun talks with Palestinian security chiefs on deployment of Palestinian forces to prevent possible attacks by militants during the withdrawal. Top Israeli army officers have warned that Israeli troops would enter Palestinian towns if necessary to stop possible rocket or mortar fire.
Rice said both sides agreed the 1,200 homes of Israeli settlers in the Gaza Strip would be razed.
Some Israeli officials expressed concern that abandoned settlement houses might become scenes of celebration for Palestinian militants.
Local journalism is essential.
Give directly to The Spokesman-Review's Northwest Passages community forums series -- which helps to offset the costs of several reporter and editor positions at the newspaper -- by using the easy options below. Gifts processed in this system are not tax deductible, but are predominately used to help meet the local financial requirements needed to receive national matching-grant funds.
Subscribe now to get breaking news alerts in your email inbox
Get breaking news delivered to your inbox as it happens.
---