News > Idaho
Ironman home away from home
Mon., June 20, 2005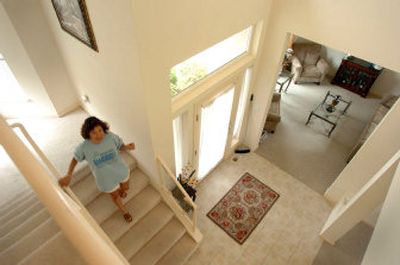 COEUR d'ALENE – When Ironman USA comes to town on Sunday, Greg Guillet and his son, Nathan, will be sitting around a campfire in the Idaho Panhandle National Forests. Their house near Tubbs Hill, however, will be abuzz with athletes.
Strangers will sleep in their beds, whip up high-protein pre-race dinners in their kitchen and relax on their couch. For a rental income of $250 per night, Greg Guillet is willing to trade the comforts of home for three nights in a tent.
"Hey, it's a mortgage payment," he said. "I could do it every month."
Ironman will bring 2,000 athletes to town to compete in the triathlon. Renting private homes has become a popular option for some competitors, creating a cottage industry for local residents.
Nearly 50 private homes are listed for rent on the official Ironman Web site, www.ironmancda.com. Choices range from a $70-per-night mobile home to a luxury houseboat moored at the 11th Street Marina that sleeps eight and rents for $1,200 per night.
Renting a house "gives athletes a different kind of experience," said Jonathan Coe, general manager of the Coeur d'Alene Area Chamber of Commerce. "They get more of a feeling of what it's like to live in the community."
The private rentals grew out of interest and desperation.
Last year, the chamber put out a plea for local citizens to rent out their homes. Three large sporting events – Ironman, Spokane's Hoopfest and a youth soccer tournament – took place on the same weekend in June, bringing a record 37,000 athletes and spectators to the region. Hotels were booked from Ritzville to Kellogg.
Lodging isn't as tight this year, but interest from homeowners remained high, Coe said. Those who contacted the chamber this spring were put on the list.
"It's pretty much a free-market system," Coe said.
Guillet, a property manager, is renting out six of his friends' homes to athletes, in addition to his own. The going rate for the properties, all in downtown neighborhoods, is $120 to $350 per night. Several of the homes are right on the Ironman course.
Guillet took applications over the phone, asking for a credit card number. He advises homeowners to put away small valuables, but doesn't really worry about theft or vandalism.
"The Ironman people seem to be a pretty good crowd," he said. "It's an expensive sport that attracts elite, high-class, elegant people. …They're not out partying."
Last year, Janet Bartman rented a room in her Post Falls home to a triathlete from Moscow, Idaho. "It was a weekend landing place for him," she said. "Most of the time, he was out and about with his fellow athletes."
Renting to athletes is another way to get into the Ironman spirit for Bartman, who volunteers at the event. Last year, she was part of the "body-marking" team that shows up at 4 a.m. on Sunday to write competitor's race numbers on their shoulder and calf.
"I was cheering on the gentleman house guest when he started," she said. "It makes it that much more exciting."
Since Bartman has rental properties, she was familiar with the business transaction. "It's really no different than screening for other rentals," she said. "You get an application, a deposit, and you have a nice conversation with the people about what their needs are."
Bartman hopes to host an athlete again. She's had several inquiries but no reservations yet for her three-bedroom home.
Jan Briggs doesn't have reservations yet either for her log home on Lake Coeur d'Alene's Carlin Bay. But last year, she got a last-minute call from three athletes who needed a place to stay.
"I'm a little further out than most participants in Ironman want," said Briggs, who lives about 30 miles from town. "But when people see the place, they're pretty thrilled with the unique accommodations."
Brigg rents out her home periodically, charging $90 to $225 per night.
"I have a really nice place and I enjoy sharing it," she said. "I think it's too bad when people come to a place as gorgeous as Coeur d'Alene, and end up staying in a hotel."
The luxury houseboat is still for rent as well. "We were kind of late in the game this year," said owner Tamara Felton.
By the time she listed the houseboat in April, many of the athletes had already made plans. Felton said she had several inquiries from interested people, but they couldn't get out of their other reservations.
The 92-foot boat's master "stateroom" has a Jacuzzi. The houseboat also comes with an office, washer and dryer, and a kitchen set up for a personal chef. Since it sleeps eight, the $1,200 per night rental fee isn't too far off what local hotels are charging, Felton said.
"You just have to find a bunch of people who can get along for a week," she said.
Local journalism is essential.
Give directly to The Spokesman-Review's Northwest Passages community forums series -- which helps to offset the costs of several reporter and editor positions at the newspaper -- by using the easy options below. Gifts processed in this system are not tax deductible, but are predominately used to help meet the local financial requirements needed to receive national matching-grant funds.
Subscribe now to get breaking news alerts in your email inbox
Get breaking news delivered to your inbox as it happens.
---