News > Nation/World
Rafsanjani hurls charges at opponent
Mon., June 20, 2005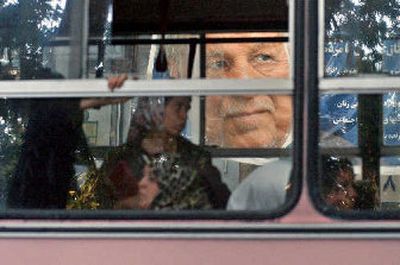 TEHRAN, Iran – The front-runner in Iran's presidential runoff sought to rally moderates Sunday by warning that his hard-line opponent would run a totalitarian regime.
The statement from the campaign manager for Ayatollah Hashemi Rafsanjani came amid suspicions the powerful Revolutionary Guard would rig the runoff vote for conservatives.
Rafsanjani's campaign manager, Mohammed Baghir Nowbakht, said Friday's runoff was crucial because hard-liners would not tolerate differences of opinions if elected and would run a "totalitarian" regime.
"They would never let other groups participate in the government," he said.
One losing candidate already has accused the Revolutionary Guard and its vigilante supporters of fixing votes during the first round of balloting. None of the seven candidates received the necessary 51 percent to win outright, forcing the runoff.
Rafsanjani – president in 1989-1997 – finished first in Friday's balloting with only 21 percent of the vote. That was barely half the 40 percent most political analysts had predicted he would get.
But an even bigger surprise was the emergence of Tehran's hard-line Mayor Mahmoud Ahmadinejad – a former Revolutionary Guard commander – as the voters' second choice. He received more than 19 percent.
Ahmadinejad, 49, is unabashedly conservative, resurrecting the fervor of the 1979 Islamic Revolution during the campaign by saying Iran "did not have a revolution in order to have democracy."
Former Parliament speaker Mahdi Karroubi, who finished behind Ahmadinejad by less than two-tenths of a percentage point, has written to supreme leader Ayatollah Ali Khamenei demanding he guarantee that the Revolutionary Guard will not manipulate the runoff, which is set for next Friday.
The letter also asked for an investigation into charges the Revolutionary Guard and vigilante groups pressured voters in four provinces. Khamenei heads the Islamic theocracy and can overrule the president or parliament.
The Revolutionary Guard, a well-funded force of about 200,000 troops, is independent of the armed forces and answers directly to the Islamic leadership and not elected officials.
Local journalism is essential.
Give directly to The Spokesman-Review's Northwest Passages community forums series -- which helps to offset the costs of several reporter and editor positions at the newspaper -- by using the easy options below. Gifts processed in this system are not tax deductible, but are predominately used to help meet the local financial requirements needed to receive national matching-grant funds.
Subscribe now to get breaking news alerts in your email inbox
Get breaking news delivered to your inbox as it happens.
---