News > Nation/World
Car crashes into house, lands on sleeping man
Tue., June 21, 2005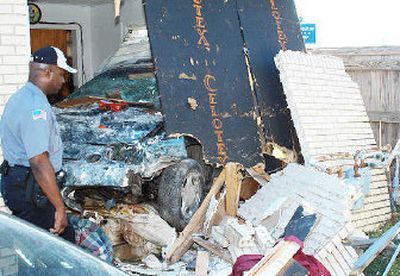 LITTLE ROCK, Ark. – In one instant, Rickey May thought a bomb had gone off outside his home.
In the next, he realized a car had crashed through his home's brick wall and landed on top of him in his bed.
"It was something pretty wild to wake up to," May said Monday from his hospital room at the University of Arkansas for Medical Sciences in Little Rock.
Police say Devlon Chandler, 34, and his wife were traveling through Pine Bluff early Sunday after a trip to a casino when Chandler fell asleep at the wheel.
The car left the road, hit a telephone pole, ruptured a gas line and went airborne briefly before crashing through May's wall.
As the 1996 Ford Taurus shot across the bed, it rolled May inside his mattress "like a burrito," protecting him from the force of the accident, May said.
"The first thing I thought was I was dying," he said.
Heat from the muffler burned May's chest, and he said the car's weight on his chest was the most frightening. He said he was afraid that when the pressure was released he would die.
"I just knew I was dead – I told God sorry for everything I'd done, but I asked him to help," May added.
Hospital spokeswoman Jerri Jackson said May, 42, was in fair condition Monday, but may need to have his right-hand ring finger amputated.
The Chandlers also were taken to the hospital, but their injuries were not serious and they were treated and released.
Devlon Chandler was ticketed for failing to maintain control of a motor vehicle, driving on a suspended license and not having proof of insurance, police said.
Local journalism is essential.
Give directly to The Spokesman-Review's Northwest Passages community forums series -- which helps to offset the costs of several reporter and editor positions at the newspaper -- by using the easy options below. Gifts processed in this system are not tax deductible, but are predominately used to help meet the local financial requirements needed to receive national matching-grant funds.
Subscribe now to get breaking news alerts in your email inbox
Get breaking news delivered to your inbox as it happens.
---