News > Spokane
Daggett hopes to bring insight to school board
Tue., June 21, 2005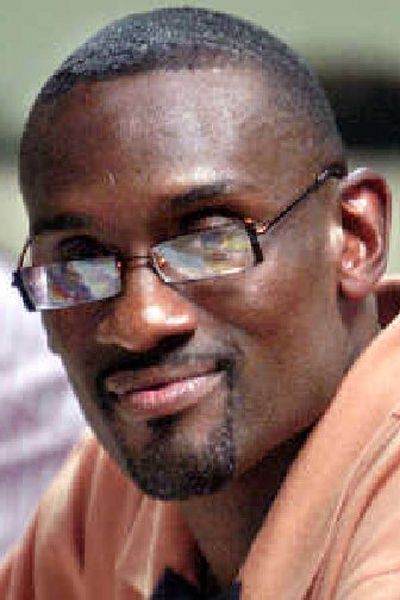 The newest Spokane school board member, Garret Daggett, considered professional basketball after a standout college career in Pennsylvania.
But duty called.
He was about to be a father. His college degree in communications from Allegheny College was not helping him find a job in the tight market of 1989.
Daggett was offered a chance to play semi-pro basketball overseas in Sweden or some other country. Instead, he joined the Air Force – the start of a seven-year military career that eventually brought him to Spokane about seven years ago.
The 38-year-old Daggett, who grew up in Akron, Ohio, has been appointed to the open seat on the Spokane Public Schools Board. On Monday, he served his last meeting as chairman of the district's diversity advisory committee. On Wednesday, he'll be sworn into his new position, which will be fairly short-lived. In November, he'll have to stand for election to keep his seat.
"I plan to run in November," Daggett said. Although he said he's not a fan of campaigning, he worked on Mayor John Talbott's election efforts.
Daggett's first community exposure came from being a member of Bethel AME church with Pastor Lonnie Mitchell. Every August, the church puts on a big event known as Unity in the Community. Mitchell pushed Daggett to take over the event several years ago.
"He saw something in me I didn't see at the time," Daggett said.
Through his efforts in Unity in the Community, Daggett met Vickie Countryman, who heads Spokane Public Schools' equity office. For the past four years, Garrett has worked on an advisory committee that addresses diversity issues for the district.
Daggett, who is African American, said his exposure to the diverse communities of Spokane has taught him that many people of color have the perception the school district is not open enough. For whatever reason, people don't believe there is an authentic openness in the district to the concerns of ethnic minorities, he said.
During his interviews with board members, Daggett said he hoped he could bring some insight to the board, such as what can happen when racial tensions get out of hand.
While growing up in Akron, a city about the size of Spokane, but with a much larger black community, Daggett saw the fights that emerged from racial differences.
In the 1980s, the Akron school district shuttered a predominately black high school and started busing students to more affluent schools, which caused tension. After a weekend fight, school officials pulled the plug on a school day when another fight seemed imminent.
Even after graduating from high school, Daggett watched as his older cousin and family were harassed by a white gang after they moved to a white suburb. He left Ohio for college and after that enlisted in the Air Force. A recruiter convinced him that without an engineering degree, enlisting was the best career move.
He traveled to Spain, Turkey and London. He watched the obvious racism against the Aborigines in Australia. In South Dakota, he saw racism against American Indians.
After seven years in the Air Force, Daggett was offered a choice between transferring to Spokane or Wichita, Kan. He had to ask just how close Spokane was to Seattle.
Once here, he landed work at Metropolitan Mortgage and Avista. His marriage broke up. His ex-wife has since remarried and lives with their three children in Texas. Daggett also remarried; his wife, Nikki Daggett, also works at Avista Advantage.
"I have a passion for seeing our kids excel in education," Daggett said.
Local journalism is essential.
Give directly to The Spokesman-Review's Northwest Passages community forums series -- which helps to offset the costs of several reporter and editor positions at the newspaper -- by using the easy options below. Gifts processed in this system are not tax deductible, but are predominately used to help meet the local financial requirements needed to receive national matching-grant funds.
Subscribe now to get breaking news alerts in your email inbox
Get breaking news delivered to your inbox as it happens.
---