Sports
Federer begins title defense
Tue., June 21, 2005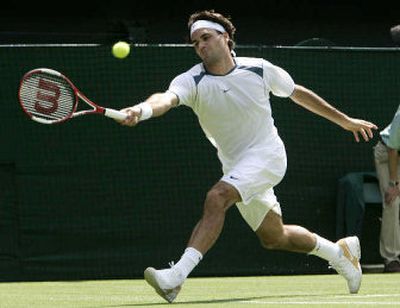 WIMBLEDON, England – In keeping with custom, the defending Wimbledon men's champion played the opening match Monday on Centre Court. Roger Federer was ready.
Back on his favorite stage, the top-ranked Federer hit four aces in his first service game and successfully began his bid for a third consecutive Wimbledon title by beating Paul-Henri Mathieu 6-4, 6-2, 6-4.
Federer walked on the hallowed court to a warm ovation, hit 18 aces and extended his grass-court winning streak to 30 matches, including 15 at the All England Club.
"A good start," Federer said. "I definitely feel sort of relieved after this start and look forward to the rest. You're into the tournament, you've seen the fans and you don't have to leave right away. So that's nice."
No. 3-seeded Lleyton Hewitt, the 2002 champion, hit 19 aces and beat Christophe Rochus 6-3, 6-3, 6-1. Hewitt is playing in just his second tournament after being sidelined for 11 weeks by foot and rib injuries.
No. 5 Marat Safin, twice a first-round loser at Wimbledon, overcame his aversion to grass and beat Paradorn Srichaphan 6-2, 6-4, 6-4.
"I felt really comfortable, actually, and really confident," Safin said. "I wish I could play this level of tennis every day. I'm trying."
Safin will next play 2003 runner-up Mark Philippoussis, who received a wild card into the draw and beat Karol Beck 7-5, 6-4, 6-2.
No. 16 Mariano Puerta, the French Open runner-up two weeks ago, lost to Lars Burgsmuller 6-1, 6-1, 6-4.
Anastasia Myskina, the 2004 French Open champion, was on the verge of her second successive first-round exit at a major event when she rallied to beat 18-year-old qualifier Katerina Bohmova 5-7, 7-6 (4), 6-4.
No. 10 Patty Schnyder instead became the first seeded player to be eliminated. She was upset by Antonella Serra Zanetti 6-4, 6-7 (7), 6-3.
Top-ranked Lindsay Davenport, the 1999 champion, needed just 41 minutes to beat Alina Jidkova 6-0, 6-2. Davenport had 29 winners and just nine unforced errors.
Davenport, 29, thought her loss in last year's semifinals would likely be her last match at Wimbledon, but she decided to delay retirement after staging a career resurgence.
"I'm still out there because I'm enjoying it," she said. "The ultimate goal is to try to win another Slam, and I still feel like I'm knocking on the door of having that happen. It's hard to walk away when you feel like you can achieve the ultimate goal in tennis."
Davenport next plays 18-year-old American Jamea Jackson, who beat Marta Marrero 6-2, 6-3. Other women's winners included No. 3 Amelie Mauresmo, No. 15 Kim Clijsters and U.S. Open champion Svetlana Kuznetsova.
No. 28 Amy Frazier lost to fellow American Mashona Washington 6-4, 4-6, 6-4. No. 25 Karolina Sprem, who upset two-time champion Venus Williams last year, was beaten by Tamarine Tanasugarn 6-2, 6-2.
American Taylor Dent, seeded 24th, lost serve just once and beat qualifier Dick Norman 7-6 (4), 7-6 (4), 4-6, 6-7 (7), 6-1. Dent hit 23 aces, Norman 25.
Wild card David Sherwood, an Englishman ranked 261st, delighted the home crowd by winning his Wimbledon debut against Ricardo Mello, 6-3, 6-4, 6-4.
No. 10 Mario Ancic, a semifinalist last year, beat qualifier Tobias Summerer 6-3, 7-5, 6-1. No. 13 Tommy Robredo lost to fellow Spaniard Fernando Verdasco 6-1, 6-2, 7-5.
Following morning thunderstorms, the tournament began in sunshine with temperatures heading into the low 80s, and as usual, grass brought out the best in Federer. He came to the net infrequently but played with polish from the baseline, hitting 33 winners with 15 unforced errors.
"I didn't want to storm too much to the net too quickly," Federer said. "I wanted to get my rhythm first."
Federer is trying to become just the third man since the 1930s to win three consecutive Wimbledon titles.
Hewitt said he's still rounding into form after slipping down stairs at home in Sydney and cracking two ribs.
"The first round of any Grand Slam is tough," Hewitt said. "It's a match you just really want to get under your belt and get through as quickly as possible."
Hewitt will next play Jan Hernych, who rallied past American James Blake 1-6, 6-4, 7-6 (6), 7-6 (4).
Local journalism is essential.
Give directly to The Spokesman-Review's Northwest Passages community forums series -- which helps to offset the costs of several reporter and editor positions at the newspaper -- by using the easy options below. Gifts processed in this system are not tax deductible, but are predominately used to help meet the local financial requirements needed to receive national matching-grant funds.
Subscribe to the sports newsletter
Get the day's top sports headlines and breaking news delivered to your inbox by subscribing here.
---