Sports
Trip to Yankee Stadium leaves Piniella reflective
Tue., June 21, 2005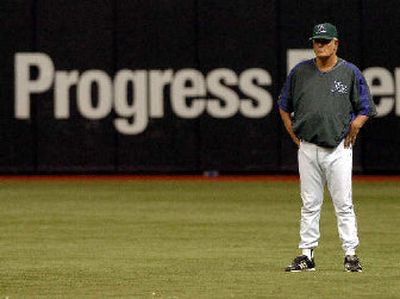 NEW YORK – Lou Piniella chose his words carefully, as if he were testifying on a witness stand.
Sitting behind the desk in the manager's office of Yankee Stadium's visiting clubhouse, he tried to talk about his exasperation managing awful Tampa Bay without saying anything more critical about the miserly owners of the Devil Rays.
"My wife says that God put me here for a purpose. I'm trying to figure out what the purpose is," he said, laughing. "I haven't quite figured it out yet, and I don't know if she knows either."
He spoke slowly at times, giving thought to his answers, doodling on a computer printout of statistics. Sometimes he repeated questions, giving himself more seconds to think about his reply.
"I came here for three reasons," he said, listing the first two as family and the opportunity to work in his hometown area. The third was "the lure of winning, turning this thing around, the challenge of doing that."
"Two out of three ain't bad," he said.
He won two World Series titles and four A.L. pennants as a player with the Yankees, and one World Series title as a manager, with Cincinnati in 1990. After 10 largely successful seasons in Seattle, he left the Mariners after the 2002 season to sign a four-year contract with the Devil Rays, a team of such spectacular failure that its media guide records each winning homestand and road trip in the history of the franchise, which started play in 1998. They all fit into one column.
Tampa Bay went 63-99 in his first season, then 70-91 last year – its best record ever. The Devil Rays began a four-game series at the Yankees on Monday with a 23-46 record, the worst in the A.L.
On June 20, the morning after an 18-2 loss at Pittsburgh, he verbalized his despondence over managing a team whose $29.9 million opening-day payroll was the lowest in the major leagues.
"I'm not going to take responsibility for this," he said then. "If I had been given a $40 million or $45 million payroll, I'd stand up like a man and say it's my fault. Well, I'm not going to do it. So if you want answers about what's going on here, you call the new ownership group and let them give them to you."
He didn't want to revisit those remarks.
"About the only thing I would retract is that, yeah, I do take my share of responsibility for it. I said that a little bit out of frustration. But outside of that, I can't do anything more than I'm doing. I care. I want to see this thing do well. I hurt. It gets rough, it really gets rough."
Local journalism is essential.
Give directly to The Spokesman-Review's Northwest Passages community forums series -- which helps to offset the costs of several reporter and editor positions at the newspaper -- by using the easy options below. Gifts processed in this system are not tax deductible, but are predominately used to help meet the local financial requirements needed to receive national matching-grant funds.
Subscribe to the sports newsletter
Get the day's top sports headlines and breaking news delivered to your inbox by subscribing here.
---