News > Spokane
Car trunk yields 3 boys' bodies
Sat., June 25, 2005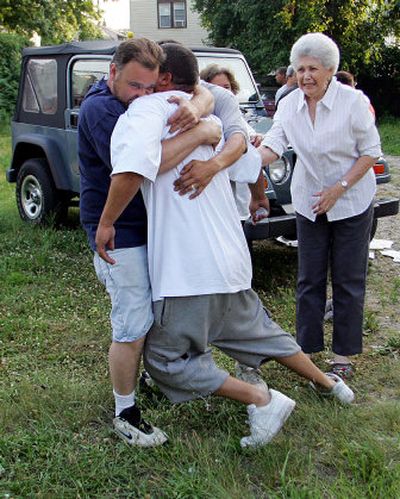 CAMDEN, N.J. – Hundreds of law enforcement officials and volunteers spent the last two days combing a massive area by air, foot and boat for signs of three young boys who disappeared while playing outside one of their homes.
In the end, they were found just steps away, dead in the trunk of a car.
A neighbor, Carmen Villa, said Friday she saw one of the boys' fathers open the trunk of the car and collapse to his knees screaming. It was not immediately clear how the three boys got into the vehicle or whether foul play was involved.
The boys – Jesstin "Manny" Pagan, 5; Daniel Agosto, 6; and Anibal "Juni" Cruz, 11 – vanished from the yard next to Anibal's home on Wednesday evening. The car where they were found was parked in a driveway next to the yard, but it was not known if it had been searched previously.
Yolanda DeNeely Aguilard, an aide to Mayor Gwendolyn Faison, confirmed that the bodies had been found but provided no immediate information on how they died.
About 150 police, firefighters and other officials had searched the neighborhood and Delaware River for two days using boats, helicopters, all-terrain vehicles and tracking dogs.
Neighbors in this desperately poor, crime-ridden city of about 80,000 people across the river from Philadelphia had also passed out fliers to motorists with the boys' photos and descriptions.
Hundreds of people milled about in the neighborhood at dusk on Friday, many of them in tears, as news helicopters hovered overhead.
"If it was one of my kids, I'd be devastated, like into a million pieces," said neighbor Maria Rolon, 28.
Anibal and Daniel both lived in Camden's largely Puerto Rican Cramer Hill neighborhood. Jesstin lived several miles away in Mount Ephraim. He and his mother had been visiting Anibal's home at the time of their disappearance.
Relatives said Anibal often played with younger children – in part because they were more like him than kids his age. He suffered from neurological problems and had just finished the fifth grade at a school for special needs students.
"He may be 11 years old, but his mind is more like a 4- or 3-year-old," said his grandmother, Carmen Cruz.
Local journalism is essential.
Give directly to The Spokesman-Review's Northwest Passages community forums series -- which helps to offset the costs of several reporter and editor positions at the newspaper -- by using the easy options below. Gifts processed in this system are not tax deductible, but are predominately used to help meet the local financial requirements needed to receive national matching-grant funds.
Subscribe to the Coronavirus newsletter
Get the day's latest Coronavirus news delivered to your inbox by subscribing to our newsletter.
---