News > Nation/World
Bush seeks to restore faith in Iraq strategy as support plummets
Sun., June 26, 2005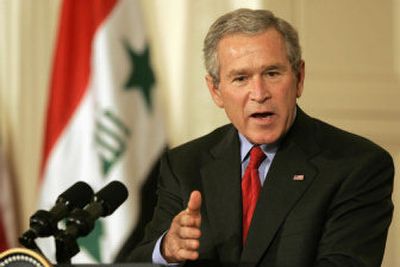 WASHINGTON – President Bush is casting about for ways to turn the tide of public opinion on Iraq. He is running into a growing level of skepticism, new strains in Republican unity and more frequent comparisons to the Vietnam conflict of almost four decades ago.
A new stepped-up public relations effort has yet to show results. The next event is a prime-time speech on Tuesday at Fort Bragg, N.C., with U.S. troops as his backdrop.
Bush administration officials see the speech as a chance for the president to clearly spell out his goals – and the stakes – of a continued U.S. military presence in Iraq.
It will take more than a finely honed speech to revive flagging public support or to reverse an alarming slide in military recruitment, analysts suggest.
"I don't think anybody will be able to watch that speech without wondering where is the banner saying `Mission Accomplished,"' said Anthony H. Cordesman, an Iraq expert and former Pentagon intelligence official.
A banner hung on the aircraft carrier USS Abraham Lincoln, where Bush, wearing a flight suit, proclaimed an end to major combat in Iraq in May 2003.
Rather than using those in the military as a prop, Bush should "sit down, present a substantive picture of what we are going to do in Iraq, and then have that backed up in detail by members of the Cabinet and by the senior military. Otherwise, the most you can do is to persuade the already converted," said Cordesman, a defense analyst with the Center for Strategic and International Studies.
At a White House meeting on Friday with Iraq's interim prime minister, Bush said he would not lay out a U.S. withdrawal strategy or bow to pressure from war critics. "I'm not giving up on the mission," Bush said.
The president also used his weekend radio address for the second week in a row to try to rally support. "Our nation's mission in Iraq is difficult, and we can expect more tough fighting in the weeks and months ahead. Yet I am confident in the outcome," he said.
Zbigniew Brzezinski, national security adviser in the Carter administration, responded for the Democrats by saying, "We deserve a realistic definition of success for a war that increasingly threatens to become a quagmire." He contended that for the first time in U.S. history, "America is conducting a war without any effort at bipartisan consultation on our tactics, on our strategy, and on our goals."
Some 53 percent of people surveyed say the United States made a mistake going to war in Iraq in March 2003, according to an AP-Ipsos poll released Friday. That is the highest number in AP-Ipsos polling who have said the war was a mistake.
Soon after Iraq's president, Saddam Hussein, was captured in December 2003, almost two-thirds of those questioned said the U.S. made the right decision in waging war.
Public support has dropped since then, occasionally spiking after positive news such as January's elections in Iraq.
The poll numbers are approaching the levels of public discontent registered in the final years of the Vietnam War.
The administration says Iraq has not become a Vietnam-like quagmire. But that word is being used more frequently to describe the political situation facing Bush.
Pollster Andrew Kohut, director of the Pew Research Center, suggested that comparisons with Vietnam might be a little off the mark. Some 55,000 Americans died in Vietnam, while 1,700 have been killed in Iraq.
"The important thing here is opinions are headed south on this because the public is reacting very negatively to this ongoing casualty count. The public is very aware of how many people have been lost," Kohut said.
"We see a growing number of people who say you have to get our troops out of there," Kohut said. But, unlike Vietnam, "the bottom hasn't fallen out on support for the war yet."
That may be of little comfort to Bush.
In recent days, Democrats have stepped up their criticism. Volleys also have come from Republicans who are troubled by what they see as the administration's failure to give an honest assessment of the situation in Iraq.
The unity on the war that Republicans exhibited during last year's election campaign is showing cracks.
With the 2006 midterm congressional elections approaching, members are thinking about their own status as they field increasing complaints on Iraq from constituents.
A withdrawal resolution was introduced in the House with the support of conservative Rep. Walter Jones, R-N.C., previously a strong war supporter. Republican Sen. Lindsey Graham of South Carolina told a Senate hearing that public opinion in his military-oriented and conservative state was turning against the war and it could become "a chronic problem" for the administration.
Local journalism is essential.
Give directly to The Spokesman-Review's Northwest Passages community forums series -- which helps to offset the costs of several reporter and editor positions at the newspaper -- by using the easy options below. Gifts processed in this system are not tax deductible, but are predominately used to help meet the local financial requirements needed to receive national matching-grant funds.
Subscribe now to get breaking news alerts in your email inbox
Get breaking news delivered to your inbox as it happens.
---