News > Spokane
He's young, but he's no rookie
Sun., June 26, 2005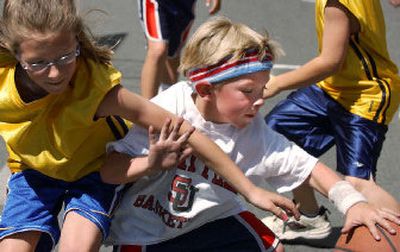 Jaxon Woodward is pure basketball, all 3 feet and 11 inches of him.
The 5-year-old's moves on the court mimicked those of a would-be pro.
"He's a basketball freak," said his mother, Julie, from the family's home in Seattle. "Basketball was probably his first word. I kept trying to get him to say other words, but he would always say basketball."
Jaxon joined 166 kids younger than 8, a record in that age group in Hoopfest's 16-year history. He could be spotted on one of the nearly 400 courts among the more than 28,300 players who converted downtown Spokane into the world's largest 3-on-3 basketball event. The games started Saturday and continue today.
Jaxon was one of two 5-year-olds playing in Hoopfest this year.
"We haven't had 5-year-olds before," said Rick Steltenpohl, Hoopfest's executive director. "That's young to be playing basketball."
Historically, the guidelines have stated that the youngest kids allowed to play are those entering the third grade. However, some younger kids have played in the past with the understanding that there wasn't a bracket for their age group.
Jaxon, who will start kindergarten in the fall, didn't appear to have a problem playing above his bracket. He drove, dribbled and defended the basketball better than some of the 9-year-olds he played against.
And he knows the game well. He has played organized ball for two years at the YMCA, his mom said. He's always watching it on ESPN with his dad. If it's time for him to go to bed, his plea is: "Can we just watch SportsCenter for a few more minutes?"
Before Jaxon's games Saturday, he scoped out his competition while they played other teams. "If we're playing the pink team, we'll win," he said. "They lost their last game 20 to 5."
When his games were about to start, he would put on his game face and then stay focused for the whole 25 minutes.
Jaxon's team was the Mini Redhawks. His teammates were his sister, Jalen, 7, and friends Quinton Maxie, 6, and Payton Williams, 7.
It was Jaxon who controlled the ball. Sporting his Michael Jordan headband, sweatbands, shorts and shoes, he played his heart out, hesitant to give up the ball.
Once the games were over, he chugged Gatorade, clung to his basketball and moved on to watch more hoops. Meanwhile, his teammates were asking to go swimming or watch cartoons, Jason Woodward said. To Jaxon, Hoopfest is like basketball heaven.
Jaxon was not alone in his passion for the hoops.
The ka-thump, ka-thump, ka-thump of basketballs echoed through the streets of downtown Spokane as 3-on-3 teams in all age groups rocked the courts. Spectators lined the streets, sometimes three deep in lawn chairs, to watch their friends or family members play.
The fashion show was also on – in two categories: best athletic attire and sexiest summer outfit. The sidewalks served as a lengthy catwalk for men and women, boys and girls. The athletes could be clearly distinguished from those showing a form of another sort.
Hoopfest organizers and regular attendees said they thought the crowd was larger Saturday than in previous years, when nearly 120,000 spectators have flooded downtown Spokane.
"It's just good, clean, healthy fun," said Sandra Fiksdal, of Spokane Valley, who was watching her two grandsons play in the tournament.
"It's a lot of hoopla, fun and excitement for the kids," said Tim Lee, who had three children playing basketball Saturday.
His daughter, 7-year-old Anna, said her favorite part "was when you get to have fun and just play."
Four 20-year-olds from Puyallup were making the most of their participation in Hoopfest.
"We're here for America," said Jarod Pace, 20, decked out in red, white and blue with a boombox on his shoulder. The group, including twins Jason and Jesse Robinette and Derek Gossler, got tattoos specifically for Hoopfest to go with their American theme. Pace's tattoo was an American flag.
The four have known one another since they were 4, and they've played together since high school. "We're good because we know each other's moves," Jason Robinette said.
Hoopfest organizer Keli Riley said that Saturday went smoothly for the most part. "There's been some flare-ups, but nothing major," she said.
As of Saturday evening, the first-aid tents had handled 460 injuries, slightly down from normal for that point in the event, said Rick Klinger, who oversees the tents.
"We had a couple of youths who were brought into another tent, because they got into an altercation with another team, and the sheriff had to pepper spray them," he said.
Klinger said other than that, the injuries he saw were typical.
"Strains and sprains are the most common, then wounds and lacerations," he said. "A woman did have a pretty bad fracture, but she was taken right from the court and to the hospital. We've had quite a few ambulance trips, about 10, which is a little high for this time of day."
As for Jaxon's time at Hoopfest, his team went 1-for-2 and won't be playing today.
They had a tough time, Jason Woodward said, but they had a great time.
Local journalism is essential.
Give directly to The Spokesman-Review's Northwest Passages community forums series -- which helps to offset the costs of several reporter and editor positions at the newspaper -- by using the easy options below. Gifts processed in this system are not tax deductible, but are predominately used to help meet the local financial requirements needed to receive national matching-grant funds.
Subscribe now to get breaking news alerts in your email inbox
Get breaking news delivered to your inbox as it happens.
---