News > Pacific NW
Mineta inaugurates trail at Heart Mountain
Sun., June 26, 2005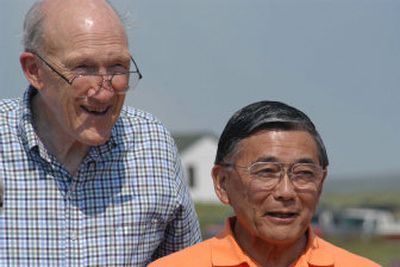 POWELL, Wyo. – U.S. Transportation Secretary Norman Mineta can still remember the stinging wind on the day he and his family arrived at the Heart Mountain Relocation Center.
For a 12-year-old used to the moderate weather of San Jose, Calif., it seemed like the wind never let up.
On Saturday, Mineta stood out in a hailstorm to commemorate the site and inaugurate a new interpretive walking trail that he hopes will teach others about the injustices of the time, and about what people do to endure.
About 120,000 Japanese-Americans were moved from California, Oregon and Washington to internment camps like Heart Mountain during World War II. They were allowed to bring only a few possessions; many sold homes and businesses for a loss, others lost them altogether.
"But they came out of this without any rancor or bitterness," Mineta said. "They came out with a determination that this would never happen again."
Mineta was 12 years old in 1942 when he and his family were forced to leave their home. They were sent first to Santa Anita, Calif., where they and other Japanese-Americans were housed at the horse-racing track. Later that year, they were sent to Heart Mountain.
The first families arrived at Heart Mountain, between Powell and Cody in northern Wyoming, on Aug. 11, 1942. Soon more than 10,700 Japanese-Americans were housed here, making it the third-largest city in Wyoming. The camp remained in operation until Nov. 10, 1945, more than two months after the war had ended.
The walking trail, a 1,000-foot paved, handicapped-accessible loop, tells that story. A series of eight kiosks tell about the history of the camp, the social organization inside (Heart Mountain had its own schools and a weekly newspaper, The Heart Mountain Sentinel) and the lives of the internees.
Art Okuno, now 83 and living in Saratoga, Calif., was an Eagle Scout before his family was relocated to Heart Mountain. Once inside, he organized Boy Scout troops in the camp.
"A couple of the parents talked to me. They said, `We've got 25 kids from San Jose who want to be Scouts – would you be scoutmaster?"' Okuno said.
One of those Scouts was Mineta, and one of the first things the troop did was to organize a jamboree and invite the local Scout troops.
Most weren't interested at first, said Alan Simpson, a former U.S. senator from Wyoming, who grew up in Cody.
"Here you are, you're 12 years old and charting the war on a map on your wall. You have a picture of Hitler and of Tojo and of Mussolini," Simpson said. Meanwhile, down the road Heart Mountain had three times the population of Cody, and was surrounded by guard towers and barbed wire.
"Our scoutmaster, back in '43, when I was 12, he said, 'We're going to the Jap camp,' because that's what they said then," Simpson said. "It was absolutely a revelation.
"We went into this building, and there were cookies and pop. This old woman started talking to me, and she said she was a grandmother, and did I have a grandmother? She spoke English. And here were these kids, they wore the same uniforms and read the same manuals and earned the same merit badges we did."
Bill Hosokawa, 90, of Denver, edited The Heart Mountain Sentinel as part of a long newspaper career that included stints at The Des Moines Register, The Denver Post, and Rocky Mountain News, and helped create the new interpretive trail. He said it was important to preserve and record the site so people would know about the mistakes of the past.
"A lot of people don't even know there was an evacuation," Hosokawa said. "You tell them you were in an American prison camp even though you're an American citizen, and they said that's a bunch of bull."
Mineta said it showed how resilient people could be despite the circumstances.
"The true message is that any community can make the American dream theirs, no matter how others try to deny it," he said.
Local journalism is essential.
Give directly to The Spokesman-Review's Northwest Passages community forums series -- which helps to offset the costs of several reporter and editor positions at the newspaper -- by using the easy options below. Gifts processed in this system are not tax deductible, but are predominately used to help meet the local financial requirements needed to receive national matching-grant funds.
Subscribe now to get breaking news alerts in your email inbox
Get breaking news delivered to your inbox as it happens.
---