News > Nation/World
NAACP picks new president
Sun., June 26, 2005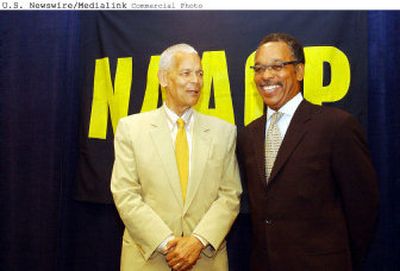 ATLANTA – Turning to a businessman to lead one of the nation's seminal civil rights groups, the NAACP's board of directors announced Saturday that Bruce S. Gordon, a retired Verizon executive, will be its next president.
"Civil rights leaders throughout this country did what they did and died, so my generation has full responsibility to walk in the doors those brave people opened," Gordon said after the board voted. "It's fabulous, exciting, humbling."
Gordon was selected by a large majority of the board to succeed Kweisi Mfume, former U.S. representative and a candidate for Senate in Maryland who resigned abruptly in December. Several months later, a report surfaced that his personal relationships with NAACP staffers had contributed to widespread mismanagement at national headquarters in Baltimore. One staff member threatened to sue.
Described as a top-notch leader and consensus-builder, Gordon, 59, began his career in 1968 as a management trainee at Bell of Pennsylvania. For 35 years, amid massive upheaval in the telecommunications industry, he helped the company navigate the string of mergers that led it to become Verizon Communications Inc. When he retired in December 2003, he was chief of Verizon's biggest division – retail markets.
Gordon's corporate background "means that he is accustomed to working within a system in which merit and achievement count the most," Julian Bond, chairman of the group's board of directors, said in an interview. "That was attractive to us. Not to say that the NAACP didn't have that. But with every step we've taken … we wanted to move up. And we think he's going to bring us a quantitative move up."
Gordon said his first priorities will be to improve the organization's finances.
Local journalism is essential.
Give directly to The Spokesman-Review's Northwest Passages community forums series -- which helps to offset the costs of several reporter and editor positions at the newspaper -- by using the easy options below. Gifts processed in this system are not tax deductible, but are predominately used to help meet the local financial requirements needed to receive national matching-grant funds.
Subscribe now to get breaking news alerts in your email inbox
Get breaking news delivered to your inbox as it happens.
---