News > Business
'No bounce' bra gets a lift from Oprah
Sun., June 26, 2005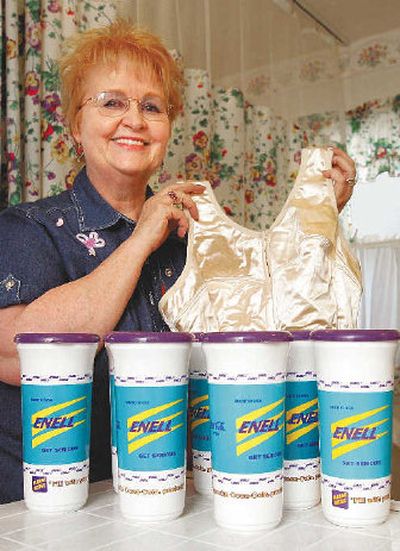 BILLINGS, Mont. — Phone calls to the Havre, Mont.-based ENELL Inc. drew a steady "busy" signal last month. That was good news for the sports-bra company that drew rave reviews from Oprah Winfrey.
When the call finally rang through, Renelle Braaten, president and founder of ENELL, had barely a moment to speak.
"Can I call you next week?" she asked. "We're just trying to do damage control."
The "damage control" was actually a frantic flurry of activity, the fallout from Oprah's enthusiastic endorsement during her "Lose Weight With Oprah" episode broadcast in mid-May. The segment gave a staggering boost to a business that had been thriving even prior to the broadcast.
"We've been growing more and more," Braaten said. "But nothing like when Oprah hit. Now it's 'Oh my God!' "
In the weeks since Oprah plugged ENELL, Braaten has had to hire additional employees to answer the phone. Down in Puerto Rico, where most of the bras are manufactured, they're scrambling to train more seamstresses.
"Now the retailers who wouldn't return our calls are begging us for our product," she said.
Almost as soon as the show aired, the phones started ringing. Virtually overnight, Braaten figures, they were six to seven months backordered.
So what's all the fuss about? And why did Oprah include ENELL Sports Bra on her "must have" list? According to those in the know, it's the best sports bra, hands down, particularly for full-figured women.
"Nothing touches ENELL for serious activity," said Linda Cetrone Levy, co-owner of TLC Lingerie in Billings. "It's one of those products: What they say about it, it's true."
Besides selling ENELL Sports Bras, Cetrone Levy wears one when she exercises. And she swears by it.
"For aerobic exercise, ENELL is simply the best bra," she said.
The no-bounce bra, made of Naturexx, a high-performance fabric that wicks moisture away while providing strength and garment life, features a front closure and wide straps. It's so effective that some insurance companies will cover the cost of the bra when a physician prescribes it for patients recovering from breast surgery.
Besides Oprah's endorsement, numerous magazines — including Sports Illustrated for Women, SELF Magazine and Runner's World — have praised Braaten's product.
For Braaten, ENELL Sports Bras is more than a business. It's a necessity. The longtime resident of the small town of Havre, who worked as a barber for 30 years and also happens to be an avid volleyball player, couldn't find a sports bra that offered the support she needed.
She turned to her mother, a skilled seamstress, to come up with a solution. The first prototype was a conglomerate of odd pieces of elastic and fabric pulled from her mother's sewing basket.
"It worked. I used it," Braaten said.
Thus was born the ENELL Sports Bra. Over time, Braaten made connections that guided her through the process of building her business. A friend's father helped her get a patent. A Bozeman firm offered advice for naming the company — she dropped the first and last letters from her first name to coin "ENELL." A Portland designer "dressed up" the bra with a few finishing touches.
Undoubtedly her best decision was getting in touch with Oprah. But the link was certainly no gimme.
"I knew she obviously needed one (ENELL bra)," Braaten said, laughing. "I saw her on the treadmill on her program."
Braaten's attempts to contact Oprah and her trainer, however, proved fruitless. Eventually, Braaten reached Kathy Kaehler, the "Today" show's fitness consultant. Kaehler, who was training actress Drew Barrymore for her role in "Charlie's Angels," tipped off Barrymore to the benefits of the ENELL Sports Bra. By way of a circuitous route of Hollywood connections, word finally reached Oprah, who has sworn by the bra since first using it.
In the several years since, Oprah has included the ENELL Sports Bra on her "O List" and in the "Love That" section of her "O" Magazine. But the May promotion — less than two minutes long — was the clincher.
"She said what she needed to say, exactly as she needed to say it," Braaten said. "Nobody listens to E.F. Hutton anymore. They listen to Oprah."
Local journalism is essential.
Give directly to The Spokesman-Review's Northwest Passages community forums series -- which helps to offset the costs of several reporter and editor positions at the newspaper -- by using the easy options below. Gifts processed in this system are not tax deductible, but are predominately used to help meet the local financial requirements needed to receive national matching-grant funds.
Subscribe now to get breaking news alerts in your email inbox
Get breaking news delivered to your inbox as it happens.
---