News > Spokane
Ranchers fear sales drop after new mad cow case
Sun., June 26, 2005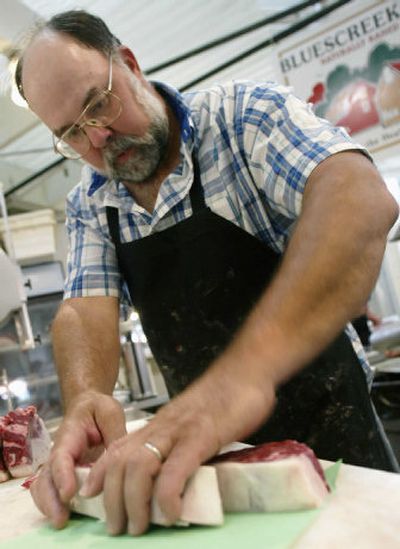 DALLAS – After the first U.S. case of mad cow was discovered in 2003, beef exports tumbled. Now ranchers are worried a second case could slam the door on foreign markets and take a bite out of sales at home.
Tulia rancher Tim Wilhelm, who owns about 5,000 head of cattle, expects a slight downturn in the market from what could be the first homegrown case of mad cow.
"I hope it's short-term, or the bank is going to come get my stuff," he said.
The Agriculture Department confirmed the discovery on Friday, a full seven months after officials first suspected the animal might be infected. Published reports have indicated the cow might have come from Texas, but federal and state authorities would not confirm those reports.
"Nobody knows where it was from," Texas Agriculture Commissioner Susan Combs said. "We don't have any idea yet."
The long-term effect of the news isn't clear. While exports dipped after the first U.S. mad cow case was discovered in a dairy cow in Washington state, U.S. beef consumption increased slightly.
"Does a second case make a difference to consumers? That's the important question," said David Anderson, a livestock marketing economist at Texas A&M University.
John Lawrence, an Iowa State University livestock economist and director of the Iowa Beef Center, said the public "took things pretty much in stride" 18 months ago when the first case was announced.
"We have been living with at least one case … for 18 months and still enjoying beef. I don't really see that this changes that much," he said.
Sandy Sanders, 43, of Chicago, seemed to agree as she brushed off the new report outside a McDonald's restaurant in Columbus, Ohio.
"Everything has some kind of bacteria," she said.
But dozens of countries have banned U.S. beef imports, including Japan, formerly the largest customer of U.S. beef. Beef exports tumbled from $3.1 billion in 2003 to about $550 million last year, according to the Agriculture Department.
Taiwan, which imported more than $76 million in U.S. beef in 2003, announced Saturday it would immediately reimpose its ban on U.S. beef.
Howard Lyman, a former Montana rancher and longtime cattle industry watcher, said Friday's announcement would embolden other nations to continue banning U.S. beef until American producers screen every animal for the disease before slaughter.
"Our credibility around the world is almost zero," said Lyman, of Alexandria, Va.
"Most countries think the USDA has had a 'don't look, don't find' policy for a long time. Why was this sample taken in November and we're sitting here in June looking for confirmation? This is absolutely ludicrous."
The animal, a "downer" that could not walk, was not killed at a slaughterhouse but at a rendering plant for animals unfit for human consumption, officials said.
Jim McAdams, president of the National Cattlemen's Beef Association, said more than 388,000 dead cattle have been screened in the past 13 months, compared with about 2,000 screenings annually before the first case of mad cow was discovered.
"This cow never entered the food system, so America should feel good about how the whole process worked," said Rep. Henry Bonilla, a San Antonio Republican who oversees the House's funding for agriculture.
"Everybody I know, and including myself, will more than likely enjoy hamburgers and steaks this weekend and going into Fourth of July," he said.
Many fast food chains saw their stock prices slip Friday, but the sell-off was not nearly as severe as when the first case of the brain-wasting disease sent many restaurant stocks into a tailspin.
"Consumers have shown that unless there's evidence that shows (mad cow) has gotten into the food supply or someone has gotten sick from it, there's not going to be any mad dash away from beef," said Morningstar analyst Carl Sibilski, who analyzes fast food companies.
Local journalism is essential.
Give directly to The Spokesman-Review's Northwest Passages community forums series -- which helps to offset the costs of several reporter and editor positions at the newspaper -- by using the easy options below. Gifts processed in this system are not tax deductible, but are predominately used to help meet the local financial requirements needed to receive national matching-grant funds.
Subscribe now to get breaking news alerts in your email inbox
Get breaking news delivered to your inbox as it happens.
---