Sports
Staley helps Sting end six-game slide with triumph over Liberty
Sun., June 26, 2005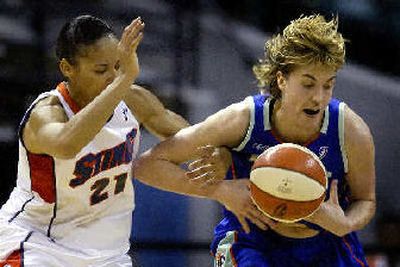 Dawn Staley scored 16 points, including a pair of free throws with 14.3 seconds left, to help the Charlotte Sting snap a six-game losing streak with a 67-61 win over the New York Liberty on Saturday night in Charlotte, N.C.
Tammy Sutton-Brown added 16 points and eight rebounds, Tangela Smith scored 16 points and Staley finished with eight assists for the Sting, who shot 51 percent and avoided matching the worst start in team history.
Shameka Christon scored a career-high 19 points, and Ann Wauters added 16 points for the Liberty, who had won three straight.
Sun 77, Mercury 69: At Phoenix, Nykesha Sales scored 22 points and Lindsay Whalen added a career-high 20 to lead Connecticut over the Mercury.
The Sun, who won three of four on a six-day road trip, made 9 of 10 free throws in the final 8:33 after Diana Taurasi had tied the game at 49 with a 3-pointer. Taurasi led all scorers with 28.
Phoenix has lost five of its last six games and fell into a tie for last place in the Western Conference with San Antonio.
Sun head coach Mike Thibault missed the game to be in California for his mother's funeral. Assistant coach Bernadette Mattox filled in.
Comets 62, Silver Stars 44: At Houston, Sheryl Swoopes scored 15 points and led the Comets to a win over San Antonio.
Michelle Snow added 13 points and a game-high 12 rebounds, helping Houston improve to 3-0 this season against the Silver Stars.
Janeth Arcain hit four of her 12 shots and was 6 for 6 from the free-throw line, finishing with 14 points for the Comets.
Local journalism is essential.
Give directly to The Spokesman-Review's Northwest Passages community forums series -- which helps to offset the costs of several reporter and editor positions at the newspaper -- by using the easy options below. Gifts processed in this system are not tax deductible, but are predominately used to help meet the local financial requirements needed to receive national matching-grant funds.
Subscribe to the sports newsletter
Get the day's top sports headlines and breaking news delivered to your inbox by subscribing here.
---