News > Nation/World
Three boys suffocated; no foul play suspected
Sun., June 26, 2005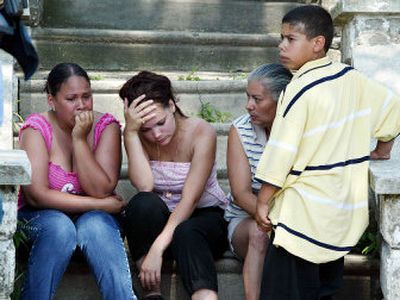 CAMDEN, N.J. – As their parents frantically searched for them, three small boys were tucked quietly into the trunk of a beat-up car, where any noise they may have made was muffled by insulation or drowned out by the sound of driving rain, officials said Saturday.
The boys' bodies were discovered Friday evening after a two-day search of several square miles of land and water, during which a police spokesman said officials were looking in "every trash can, every nook and cranny a 5-year-old could possibly be."
Authorities said Saturday that the boys had suffocated after climbing into the trunk on their own. No foul play was involved, said Camden County prosecutor Vincent P. Sarubbi.
Police had looked through the car when the children were first reported missing, and it was not clear why the trunk was not searched then, Police Chief Edwin Figueroa said. Sarubbi said police and prosecutors will issue a report on the handling of the search within 30 days. Death certificates did not give a time of death for Jesstin Pagan, 5, Anibal Cruz, 11, and Daniel Agosto, 6.
"It's a tragic loss. We're all hurting right now," said Maggy Ortiz, 37, a cousin of Daniel Agosto's mother. "We all had faith that we were going to find them alive, not the way we found them."
Officials said one of the boys had played before in the car, which was owned by Anibal's maternal grandmother. It had been sitting for about three weeks in a shaded, weedy corner of the Cruz family's yard.
The deaths brought to 11 the number of children who have accidentally died in car trunks since 2000, according to Kids and Cars, a nonprofit group in Leawood, Kan., that tracks such cases.
"They were probably playing hide and seek and thought, 'Nobody will find us here,' " said Janette Fennell, the group's founder and president. "Unfortunately, they didn't, and it became this tragedy."
Fennell's group successfully lobbied Congress to pass a law requiring cars made beginning in 2002 to have release latches inside the trunk, but the Toyota in which the boys were found appears to have been made prior to 2002.
For two tortured days after the boys disappeared, dozens of officials searched their Camden neighborhood – checking in backyard sheds and abandoned houses and beneath manhole covers.
Local journalism is essential.
Give directly to The Spokesman-Review's Northwest Passages community forums series -- which helps to offset the costs of several reporter and editor positions at the newspaper -- by using the easy options below. Gifts processed in this system are not tax deductible, but are predominately used to help meet the local financial requirements needed to receive national matching-grant funds.
Subscribe now to get breaking news alerts in your email inbox
Get breaking news delivered to your inbox as it happens.
---