Sports
Birdie's birdie wins U.S. Women's Open
Mon., June 27, 2005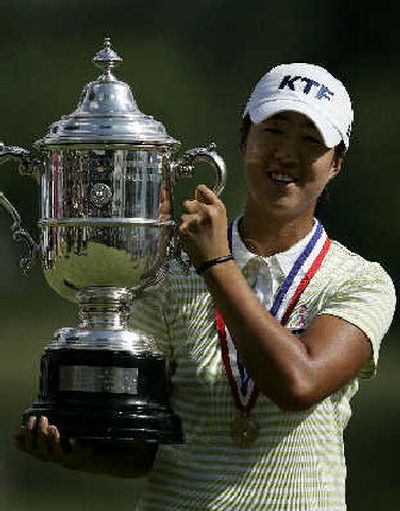 CHERRY HILLS VILLAGE, Colo. – She misses her family and the food in her homeland. She hasn't been back to her native Korea for more than a year. She was playing in her first U.S. Women's Open and thought there was no way on earth she could win it. She assumed Swedish victory machine Annika Sorenstam would do that.
But in the final round, Birdie Kim was tied for the lead at Cherry Hills. She was facing a 30-yard bunker shot on No. 18, and just wanted to get it close. Instead, she improbably holed in on the course's monster – the only birdie made there Sunday, and one of just four there in the tournament – and earned herself a shiny trophy.
She didn't know, though, that the check that came with it was for $560,000. Told later that she had just won more than half a million dollars, Kim exclaimed, "WOOOO!"
The stories all week from the biggest event in women's golf were about Sorenstam's Grand Slam hopes and America's teen-age brigade, led by Morgan Pressel and Michelle Wie. But Sorenstam never got anything going Sunday, shooting a 77 and finishing in a tie for 23rd along with Wie, who finally looked a little more like a 15-year-old, shooting a final-round 82.
The 17-year-old Pressel – who like Wie had an opportunity to become the youngest winner of a golf major – shot a 75 but appeared to have a good chance at the title.
However, the winner was a 23-year-old Korean who changed from her given name of Ju-Yun to the distinctive "Birdie" so she wouldn't get lost among all the "Kims" in women's golf; there were seven with that surname in this field.
And Sunday, Birdie Kim got to tell her story.
She sometimes needed reporters' questions translated into Korean. And a few of her answers in English were a bit jumbled, such as when she said her new sand wedge wasn't used to her, instead of the other way around. But overall, Kim handled her biggest interview session the same way she handled a brutal Cherry Hills course that chewed up and spit out most of the players who dared to step on it Sunday.
She did great.
"I am really proud," said Kim, who shot a 1-over 72 and finished at 3-over 287. "I am following Se Ri Pak, what she achieved. I really look up to her. We're like sisters."
Pak sparked the influx of Korean women to professional golf – there are now 26 on the LPGA Tour – by becoming the first from her country to take this title, in 1998. Incidentally, that was also the last time the Women's Open had a winning score above par; this was just the fourth time that's happened since 1980.
Pak won in a playoff against U.S. amateur Jenny Chuasiriporn, who played for Duke at the time. Kim won by 2 strokes over two U.S. amateurs: Brittany Lang, a 19-year-old who just helped Duke win the NCAA title, and Pressel, a high school senior-to-be who's committed to play for Duke.
That is, if a pro career doesn't lure Pressel away before she goes to college. Pressel scored a 1,350 on her SAT, including 790 out of a possible 800 in math. So she knows her numbers, and "2" is not one that she likes.
Pressel doesn't just wear her emotions on her sleeve … they're all over her body. After her round, tears kept leaking out as she thought about how close she came.
"It's just disappointing. I wanted to win," Pressel said. "Yeah, I finished second, but I'm not holding the trophy."
Would-be contenders fell by the wayside, most painfully Mexico's Lorena Ochoa, who had the best round of the day destroyed by an 8 on No. 18 after she hit her drive into the water. With a par on that hole, Ochoa would have matched Kim's 3 over.
Lang made a move with a 71. But she missed a par putt on No. 18, finishing at 5 over.
And so it came down to Pressel and Kim. Pressel made two terrific long par saves on Nos. 10 and 15, but left a 15-footer for birdie on 16 just short. On the par-5 17th, she missed left on a 20-footer for birdie.
Still, she felt she had the momentum. Kim had bogeyed No. 16 and dropped into a tie at 4 over with Pressel. Then Kim hit into the bunker on No. 18. Pressel, watching from behind on 18, was thinking Kim might bogey. Then a par would win the tournament.
"I was just like, 'I can't believe that actually happened,' " Pressel said.
Local journalism is essential.
Give directly to The Spokesman-Review's Northwest Passages community forums series -- which helps to offset the costs of several reporter and editor positions at the newspaper -- by using the easy options below. Gifts processed in this system are not tax deductible, but are predominately used to help meet the local financial requirements needed to receive national matching-grant funds.
Subscribe to the sports newsletter
Get the day's top sports headlines and breaking news delivered to your inbox by subscribing here.
---