News > Features
'Empire' impressive production of Roman history
Mon., June 27, 2005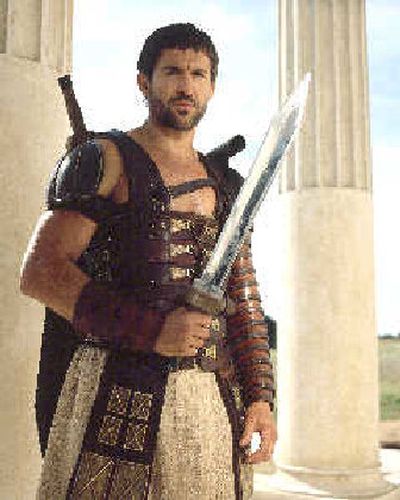 ABC is gambling that summer viewers might enjoy a Roman holiday, circa 40 B.C.
Movie theaters are dominated by various kinds of blockbusters at this time of year, "Empire" executive producer Tony Jonas figures, so maybe the same approach will work on the small screen.
"While the rest of television is doing reality shows, you're going to have this gigantic, sumptuous epic that, hopefully, comes into the American consciousness as feature films have been doing for so long," Jonas said.
Billed as a six-hour limited series, "Empire" begins with the assassination of Julius Caesar and follows a dramatized version of the ascension of his nephew and heir, the teenage Octavius.
(Cautionary note to students: Don't attempt to base a term paper on "Empire," which occasionally swaps historical accuracy for dramatic effect in time-honored Hollywood fashion.)
Despite early media buzz that had its fate in jeopardy, "Empire" is a richly cinematic and impressive production. A solid ensemble of mostly British actors is at ease in togas and carrying the weight of epic storytelling.
Among the cast: Colm Feore as Caesar; Santiago Cabrera as Octavius; Vincent Regan as Marc Antony and Emily Blunt as Camane. Jonathan Cake plays the pivotal and fictional character of Tyrannus, a gladiator who becomes Octavius' protector and mentor.
The avoidance of American actors (one exception is Dennis Haysbert of "24") was a deliberate bid to keep well-known faces out of the drama, Jonas said. He also figures British accents help suggest an ancient and removed era.
"The idea was what can we do to ease our audience into what's kind of a difficult buy, which is to traverse 2,000 years," Jonas said.
Cake, who stars this fall in NBC's new drama "Inconceivable," drew closer to Tyrannus – a principled man and ex-slave who's ferocious in battle – by doing his own stunt work. The athletic actor, a rugby fan, worked out with a trainer for months prior to filming in Rome last year.
"Getting a lump or bruise or cut on the hand makes you feel a little bit less like the cosseted, very spoiled actor that you are if you're doing a production where everybody's treating you nicely and asking if you want a cup of coffee," he said.
There was some risk, given that real swords were used in close-ups to provide authenticity. In a scene in which Tyrannus fights to free his son from kidnappers in an ancient and musty underground temple, a cut quickly became infected and required a hospital visit for Cake.
His five months in Italy, however, ended on a high note: He and actress Julianne Nicholson were married there after filming wrapped.
Besides positioning itself as a TV-sized blockbuster, "Empire" seems to be aping the movies by beating a competitor to the screen. HBO is bringing the 12-part drama series "Rome," set in 52 B.C., in the fall.
"We were filming at exactly the same time," recalled Cake. "We'd meet up in Roman restaurants to have a 'hands across the Tiber (river)' evening to compare notes on our productions."
The joking suggestion was made that he and a "Rome" actor whose character was also handy with a sword should "just go at it to settle the whole thing."
A tale of two soldiers who become involved in the sweep of events, "Rome" is being positioned by HBO as a potential continuing series. Jonas would like to see the same for "Empire," and is ready if viewers give it an arena-style thumbs-up.
"There's closure in Episode 6, but there are story lines that could launch right out in more quests for power," he said. "It's not being tied up in a nice little ribbon."
Local journalism is essential.
Give directly to The Spokesman-Review's Northwest Passages community forums series -- which helps to offset the costs of several reporter and editor positions at the newspaper -- by using the easy options below. Gifts processed in this system are not tax deductible, but are predominately used to help meet the local financial requirements needed to receive national matching-grant funds.
Subscribe now to get breaking news alerts in your email inbox
Get breaking news delivered to your inbox as it happens.
---