News > Nation/World
Events mark 6 months since tsunami
Mon., June 27, 2005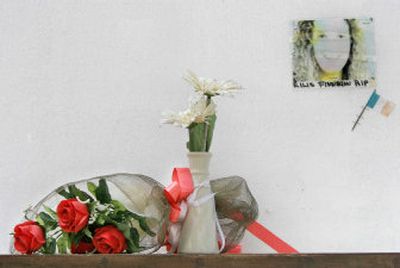 VAKARAI, Sri Lanka – Marking the day six months ago that an earthquake and tsunami killed 178,000 people and left another 50,000 missing, volunteers in this Sri Lankan hamlet collected anything left from the rubble for an exhibition meant to help survivors mourn.
School bags, shoes, tea cups, television parts were all brought to a school in Vakarai, about 37 miles northeast of Batticaloa.
"This pair of shoes, my daughter liked most" read an inscription near a shoe.
Elsewhere across Asia, some places held ceremonies Sunday to mourn those lost and mark the day that devastated so many lives.
In India's worst affected area of Nagapattinam, a fisherman burned incense sticks before a coconut sapling planted by the shore. The plant, named after the fisherman Ravi Shankar's niece Nandini K., is among 207 saplings planted in the memory of children who died at the spot.
More than 11,000 people died in India, and fears of another tsunami linger, said Namaswaya, the head of a local fishermen cooperative in Nagapattinam.
"The water is very rough, so people don't want to go. There was also a rumor that there could be another tsunami at 6 a.m. today," he said.
In Indonesia, where people had gathered a day earlier to commemorate the 131,000 killed there, signs of hope mingled with new life as families filled the grounds of the Baiturrahman Grand Mosque in the heart of hardest-hit Banda Aceh and wedding parties were held throughout the provincial capital.
Clad in green and gold silk, with an elaborate headdress, Wanti Maulidar was nervously awaiting her groom for the traditional marriage ceremony.
"I realize today is the six-month anniversary of the tsunami, so there is a sad memory. But this is also a happy day for us and a way we can encourage others to look to a better future," she said.
Maulidar, 28, said she had already postponed her wedding earlier and did not want to wait longer to be married. But as an acknowledgment of the recent disaster, the couple decided to hold a modest party at home.
Still, things have improved since the day the huge lawn in front of the mosque flooded with debris-filled blackened water and piles of bodies. The lawn was green again with replanted grass, and wooden scaffolding surrounded the damaged minarets.
In Sri Lanka, where a deal with Tamil Tigers to distribute tsunami aid in rebel-held areas was signed only last week, the scale of the tragedy continues to haunt survivors, many of whom have yet to rebuild their homes and lives.
There were no memorials Sunday in a sprawling relocation village in eastern Sri Lanka, with survivors saying they want to leave the bitter memories behind and look to the future.
Some were busy laying foundations for new homes being built by a private relief group, while others mixed concrete or worked in vegetable gardens or small shops.
"I heard on the radio that today is the six-month anniversary," said 60-year-old Vairamuttu Kandasamy, who lost his wife to the waves on his 35th wedding anniversary.
He also lost a daughter and three grandchildren and now lives alone in a hut, one of dozens of temporary tin-roofed and thatched sheds that dot a vast stretch of sandy land. He survived the waves by climbing a coconut tree with one of his granddaughters.
Local journalism is essential.
Give directly to The Spokesman-Review's Northwest Passages community forums series -- which helps to offset the costs of several reporter and editor positions at the newspaper -- by using the easy options below. Gifts processed in this system are not tax deductible, but are predominately used to help meet the local financial requirements needed to receive national matching-grant funds.
Subscribe now to get breaking news alerts in your email inbox
Get breaking news delivered to your inbox as it happens.
---