News > Nation/World
Iran's new leader takes tough line
Mon., June 27, 2005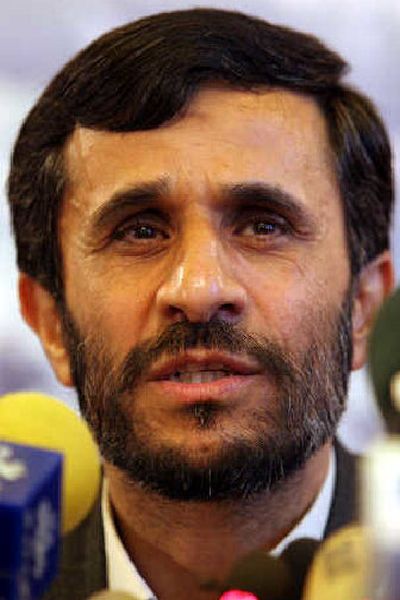 TEHRAN, Iran – Iran's ultraconservative president-elect, at once defiant and at ease, vowed Sunday to restart the nation's controversial nuclear program and warned European negotiators that building trust required a mutual effort.
Asked about relations with the United States during his first news conference since Friday's election, Mahmoud Ahmadinejad said Iran "is taking the path of progress based on self-reliance. It doesn't need the United States significantly on this path."
In a sign of tensions likely ahead, Secretary of Defense Donald Rumsfeld said Ahmadinejad was "no friend of democracy" and dismissed the vote as a "mock election."
Ahmadinejad entered the crowded chambers in Iran's municipal building with little fanfare, maintaining the unassuming style embraced by the roughly 17 million Iranians who voted him to power in a landslide victory.
In his opening statement, he promised to shun extremism and cobble together a moderate regime. Yet critics say his election only consolidated the hard-liners' hold on power, and no reform-minded people remain in the government.
"He is no friend of democracy," Rumsfeld said on "Fox News Sunday." "He is a person who is very much supportive of the current ayatollahs, who are telling the people of that country how to live their lives, and my guess is over time the young people and women will find him as well as his masters unacceptable."
A key concern for the United States is Iran's 20-year-old nuclear program, revealed in 2002.
The United States alleges the program is aimed at building atomic weapons. Iran insists it is only interested in generating electricity. Uranium enriched to low levels has energy uses, while highly enriched uranium can be used in bombs.
Iran suspended all uranium enrichment-related activities in November to avoid possible sanctions from the U.N. Security Council, but it said all along the suspension was temporary.
Ahmadinejad said Iran's decision would not change, but he did not say when the resumption would begin.
"This is the final path we have taken," he said.
Local journalism is essential.
Give directly to The Spokesman-Review's Northwest Passages community forums series -- which helps to offset the costs of several reporter and editor positions at the newspaper -- by using the easy options below. Gifts processed in this system are not tax deductible, but are predominately used to help meet the local financial requirements needed to receive national matching-grant funds.
Subscribe now to get breaking news alerts in your email inbox
Get breaking news delivered to your inbox as it happens.
---